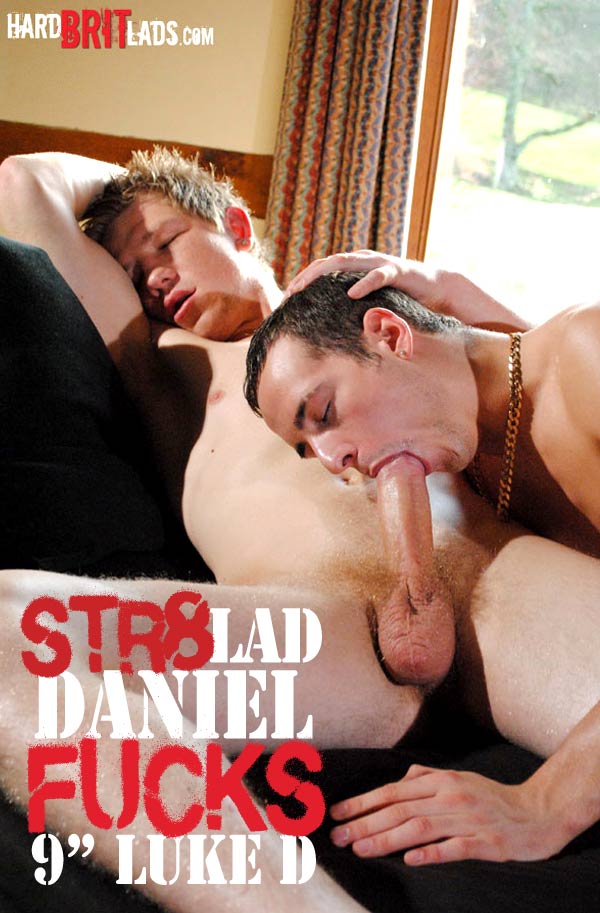 Watch Daniel Johnson & Luke Desmond at HardBritLads.com
Fit and hung straight footballer Daniel Johnson is open about being comfortable doing gayforpay work, and we recently saw him get his cock sucked by fittie Justin Harris, but this time he is going all the way and fucking a lad.. and the lucky lad is our favourite super hung young hottie Luke D.
We start off with an interview, which establishes what Daniel is comfortable with, and he even agrees to try a bit of sucking himself, which puts a nice smile on Lukes face… Then the action begins with Daniel stroking the big bulge in his sports shorts, whilst Luke rubs oil into Daniels hot fit body, his tight abs and big muscular football thighs.
Lukes hand moves up Daniels thighs to his stiff bulge, and Daniel pulls his shorts down. His throbbing cock is straining to get of his white undies, and Luke wastes no time in releasing it, taking Daniels thick uncut 8 inch meat in his hand, and opening his mouth wide to start sucking. Luke spits on it, rubs the spit in, then gets into some serious sucking. Daniel grips Lukes head and spends quite a while facefucking Luke till he can't take any more. Extremely horny.
Then Luke leans back, holds his cock up, and Daniel hesitantly tries sucking it. OK he doesnt go deep, or get into it, but its very horny to see a straight lad try some cock sucking, and his sucking isnt bad, Luke clearly loved it, his cock rock solid throughout. Then they jerk off together, and Daniel leans back into the sofa to get sucked again. As before, it doenst take long before Daniel is fucking Lukes mouth as hard and fast as he can.
Despite having a massive dick, and being great at fucking, Luke seriously loves to get fucked. And Daniel proves himself to be one incredibly good, controlled, strong fucker. His dick is permanently rock solid, and he varies his fucking between intense, long strokes, showing us plenty of length, and then hard, deep fucking.
They fuck in three great positions. First, Luke lays on his side on the sofa, his nine incher stiff at the thought of whats to come.. Daniel lays behind him, kind of spoons position, rubbing his dick against Lukes hole, before easing his thick meat into Luke's arse. As it goes in all the way, Lukes cock twitches. Hot. Daniel starts gently but quickly picks up the pace, and it gets hornier and hornier as they both get into it.
Next, Luke is on his back, with Daniel kneeling. He pushes his dick in and quickly gets into some good hard fucking. I have to say, Daniel is a seriously horny top. By now both the lads hot bodies are shiny with sweat. After some very hot action, they get into the third position, where Daniel is standing up as Luke leans against the sofa. As before some great action with long strokes showing plenty of length, then Daniel pounds him harder. Its not long before Luke is aching to shoot to his load and cant hold off anymore.
Daniel pumps his dick into Luke really hard and fast, clearly hitting the spot as Luke suddenly shoots a big load, several jets of hot spunk spurt out onto the floor. Daniel pulls out and whips off the condom as Luke turns round and kneels below him to get a nice face full of it as Daniel cums all over his mouth and chin, pushing his cock into Lukes mouth to make him taste it. The thick white jizz dribbles down Lukes chin as they catch their breath. For a straight lad, Daniel is a seriously good top.