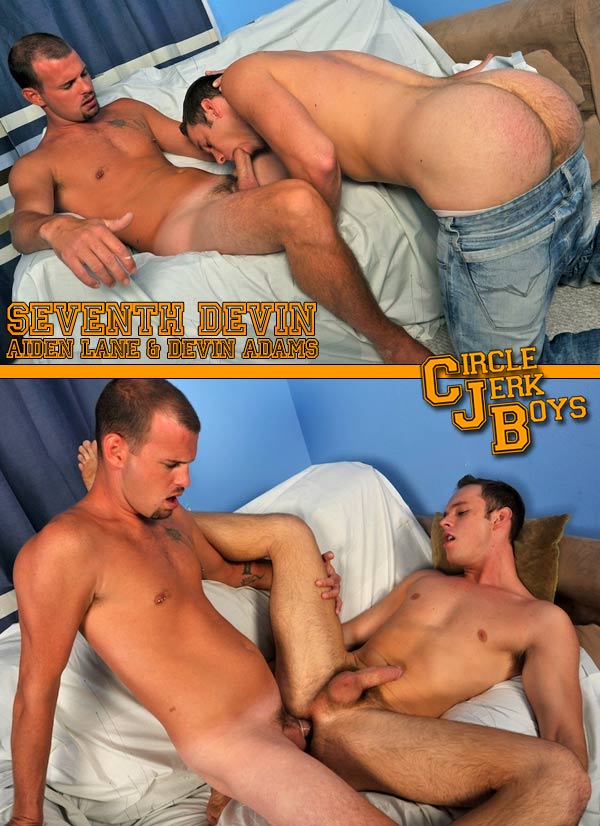 Watch Aiden Lane & Devin Adams (Seventh Devin) at CircleJerkBoys.com
Aiden Lane is always a sight worth waiting for and we have a special surprise for him as well. Aiden, our favorite resident Floridian, is going to get a play date with a sexy 23 year old from Maryland that goes by the name of Devin Adams. Devin is a tall order at 6'3 but we know he's in good hands. We asked these two if they could get their dream car what would it be. Devin would get a Red Bentley. Aiden thinks about that-for a millisecond-and answers a Black Ferrari F430 Spider. Classy and exotic we got it all covered today. We then wondered which celebrity crush they'd want to drive around. Aiden has a crush on Ryan Gosling. (who doesn't?) For Devin he has his eyes on the prize and like many a team wants to land Tim Tebow. We suggest he start praying early. We then kicked it up a notch and asked what they would do if they were with their celebrity crushes who were already naked. Devin would want to appreciate that end zone since he appreciates eating a nice ass. Whatever happens after that would be fine by him. Aiden would just start blowing Ryan and go from there. Not a bad plan, not a bad plan at all.
Aiden's painting the apartment when he starts getting creative. Devon comes in wearing a CJB shirt that says 100% straight. Aiden laughs as he paints over the 10 leaving 0%. Devin rolls his eyes and has to take his shirt off now. "That was the idea", says Aiden with a grin. He pulls Devin in for a hot make out session that eventually leads Devin's tongue south until it discovers Aiden's fat cock. Aiden moans as Devin starts to pleasure his aching meat. Aiden just watches as Devin savors that thick dick and takes it all the way down his throat. Aiden then kicks back on the couch to give Devon room to do his business. Devon kneels and gets right back on that dick as he shoves it down his throat. Aiden's curious to see what he's working with so he stands Devin up and hauls out his cock. Aiden doesn't want to be a rude host so he gladly returns the favor. Devin holds Aiden's head as he slides his cock all the way down his throat. Aiden laps at that hard shaft and pays lots of at! tention to his balls. The chemistry is off the charts as they get back to making out for more. Aiden's tongue isn't done with Devin as he bends him over the couch.
Devin moans as Aiden's hot tongue discovers his tight ass. He eats that ass out getting it nice and wet for that thick dick he intends on giving him. When that hole is good and ready, Aiden stands up and starts to tease that ass. He then slides that cock home as he starts to fuck Devin's sweet ass doggy style. Devin is rock hard as Aiden starts to mount him deep. "Oh it's so fuckin' big!" coos Devin as his ass gets stretched wide. Devin loves every inch of it and just begs Aiden to fuck that ass. Aiden's never been one to disappoint so he fucks him harder. Aiden pulls out and turns Devon around and gets him on his back with that sweet ass in position for more. Aiden's slides his dick home and pounds that hole missionary as Devin moans and groans. Aiden rails into that sweet ass with ease as he just watches his dick disappear into that hungry hole. Aiden then gets Devin on the couch for more missionary dick and once he gets back in there it's enough to send Devin over the ed! ge. He cums all over himself as Aiden pounds that cum out. Aiden then falls back onto the couch and unloads a massive load drenching himself in cum from his shoulders all the way south to cum central. Seems like somebody WAS a bit backed up…
Watch Aiden Lane & Devin Adams (Seventh Devin) at CircleJerkBoys.com