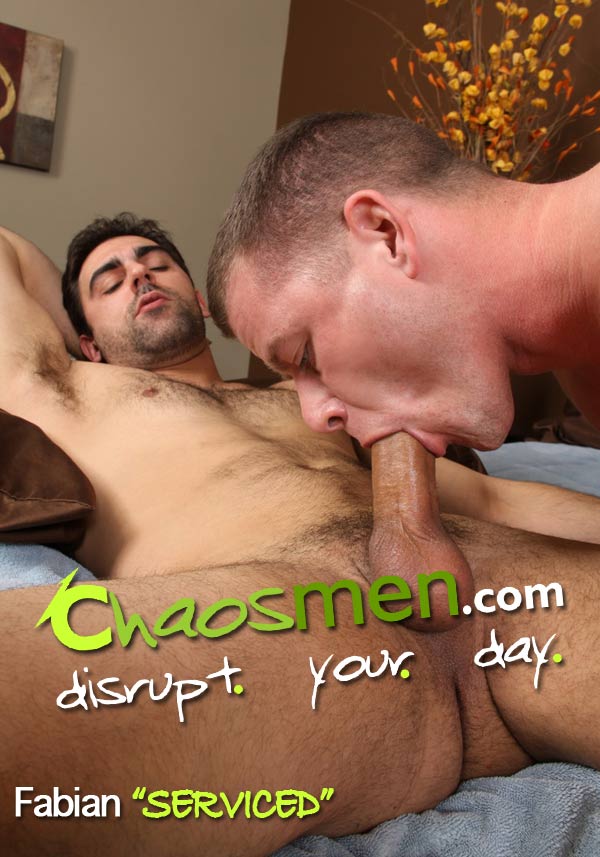 Watch Fabian (Serviced) at ChaosMen.com
We start off this Serviced video a little differently. I really wanted to showcase Fabian's ass because we missed it during his solo. I also knew that Fabian liked getting his ass eaten, and he figured he would get hard quickly if someone was rimming him. Win win!
This certainly worked. Ransom licks, rubs, pulls, and sucks until Fabian's cock is fully hard. So those that like to worship the ass, and a pretty dang perfect one at that, then you will love the beginning of this video.
The video seems a little shorter than other Serviced videos, mainly because Fabian was struggling to not cum through out most of the video.
We gave up after about 5-6 minutes and Ransom went into "make 'em nut" mode and he was spilling his seed in not time flat.
Ransom took the first squirt down his throat and made sure that there was some nice cum play/eating going on.
Fabian, I suspect, will be back for more. Not sure if I am going to have to take him through slowly with another oral type video, but given the attention to his ass, and how quickly it turned him on, I would think he might want to try getting fucked….or at the very least some dildo play.
This is an awesome Serviced video, with a sexy and hung Italian man!