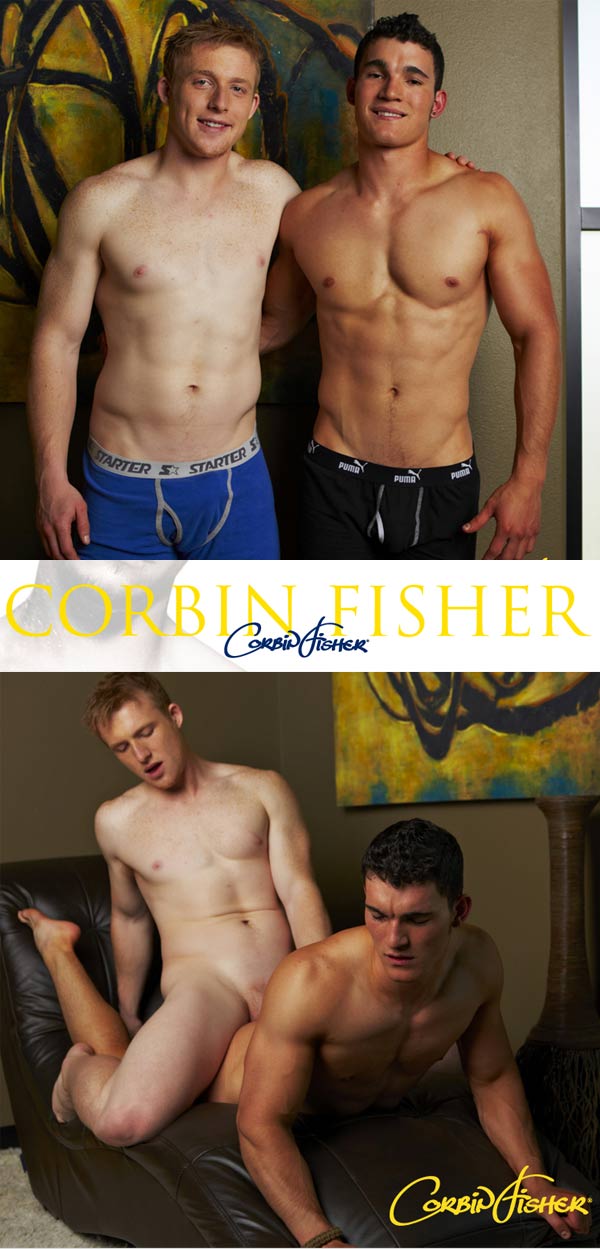 Watch Reed & Reece at CorbinFisher.com
It's time muscle hunk Reed got fucked – and redheaded stud Reece is just the guy to do it!
Reed took a long time to come back to us, but he finally jumped into guy/guy action with Sloan and then Landon – but he wanted to try being on bottom to see how it felt. Reece was more than happy to oblige.
The guys make out, Reed wasting no time going down on Reece's cock. Reece pulls him back up to make out with him some more … and to get Reed's shirt off to show off his amazing chest and abs.
Reece kisses Reed all over, rubbing Reed's cock through his jeans. He licks Reed's nipple, then pulls out his cock and sucks Reed's cock and balls. Reed's dick is rock-hard and Reece slaps his own face with it.
Reed gets on all fours. Reece eats out his virgin ass. He smacks Reed's ass and licks it. "I wanna fuck you so bad," Reece says.
Reece slides a finger into Reed's ass. He teases Reed with the finger, then the head of his cock. He thrusts it in and Reed moans loudly. Now that Reed's used to that thick cock in his ass, Reece pounds him harder. Reece holds up Reed's ankles so he can drive in even deeper.
Reed climbs on top of Reece and rides him. Reece drills up into Reed's tight hole, telling him to spread his legs. Reed bounces up and down, his dick bouncing up and down as well.
Reece fucks up into Reed, then slows down the pace. Reed rolls onto his back and Reece dives back in. The guys kiss, and Reece pounds him faster. Reed jerks his own cock as he gets fucked.
Reed and Reece kiss. Reece doesn't let up, ramming his cock all the way inside. Reed shoots a thick load all over his ripped abs. Reece keeps fucking Reed, then pulls out and blasts a huge load all over Reed's chest and stomach.
Reece rubs their cocks together and takes his finger and traces his cum all over Reed's perfect body!