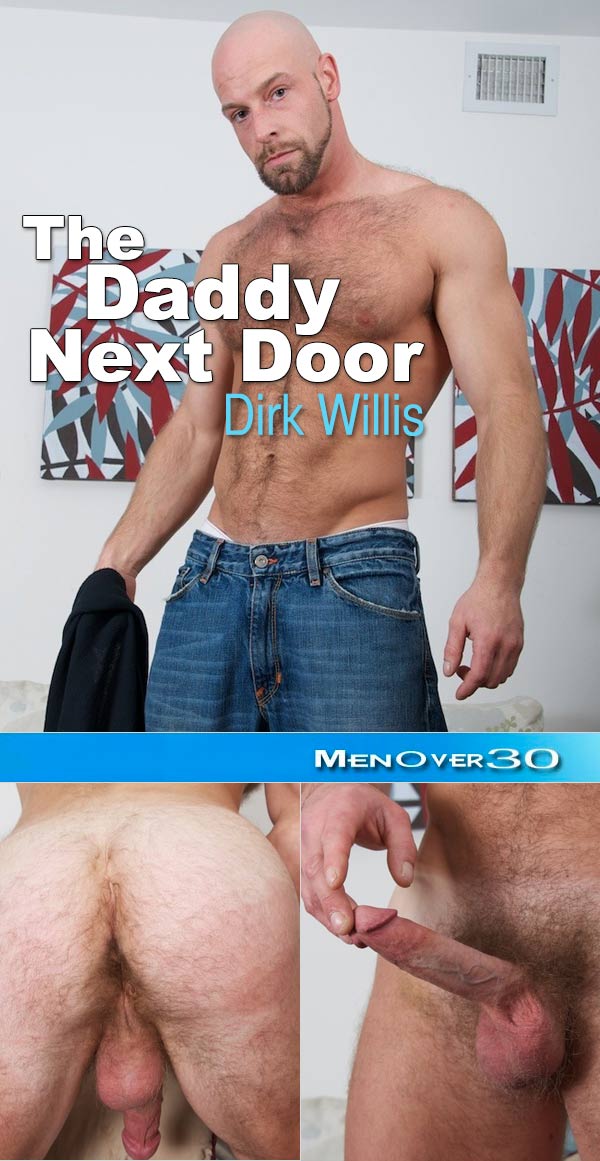 Watch Dirk Willis (The Daddy Next Door) at MenOver30.com
Dirk Willis makes his debut with us this week and we couldn't be happier to have this 34yo hairy morsel with us. Dirk is originally from Riverside, California. Dirk is in amazing shape and likes to keep himself in sweet shape. He works out 5 times a week and eats healthy. He mostly lifts weights and does cardio a couple times a week. Dirk is an equal opportunity lover and when it comes to men he likes them older about 40-50. He likes them lean with a little bit of body fur. He can't say he identifies himself as being gay or straight. If he's attracted to someone that's all he needs to act on it. He's a bit of an exhibitionist and one of his earliest adventures was having sex out in public as he got it on during the day at school. A part of the building was under construction and that didn't stop Dirk from fucking right then and there as the construction workers all went on about their business trying hard not to notice. Sounds like an amazing High School campus. That got him started on loving adventurous locations when it comes to getting off. He would one day love to fuck in the middle of crowded room. He had other adventures too where he got off knowing other people were watching. Well, he's about to go global and have thousands watch as he takes care of his thick furry cock.
Dirk comes home and decides to strip into something a lot more revealing. His tank is the first to hit the floor as his hands fumble with his fly. He knows just what he needs as he undoes his button fly and starts to tug at his growing cock through his sexy red briefs. Dirk has a sexy hairy chest with fur that nicely complements the physique he works hard at. He seems to have body hair just about everywhere as he turns around to show off his back and obliques. He keeps his head shaved smooth and that's about the only smooth real estate on him. He runs his hands over his muscular pecs and abs before finally slipping out of his underwear. He widens his stance as he starts to jerk off his growing meat. Dirk's cock looks impressive even when it's asleep and now that it's slowly coming to life things are about to get better. He lies back on the couch as he jacks his cock dry. He is rock hard in no time as his thick 8″ cock stands proudly at attention. As he plays with his cock, D irk can't help but groan caught up in the sensation as he plays with his pulsing cock. He licks his fingers from time to time as he helps lube his rigid cock. He leaves that hard cock to his left hand as his right one starts to play with his hairy ass. He teases his hole ever so slightly before slipping one, then two fingers inside. He then uses both hands slipping multiple fingers into his hole as his breathing begins to labor as he moans for more. Those fingers have Dirk on edge as his balls pull tight around the base of his hairy cock. He beats off faster as his body starts to quiver. "Aww fuck!" he grunts as his cock erupts; sending thick streams of jizz all over his furry navel. He's spent and catches his breath as he rubs his hands through his load leaving his abs a matted mess.