Electronics geeks have CNet, and losers of all consumer stripes have ePinions to validate their purchases. But where can you go to find the hottest male ass on the planet and figure out how much to pay for it? That'd be the sole province of HooBoy's Escort Reviews, a long-lived site that compiles your and my reviews of the pay-for-play dudes we know, love, and towel off after we're done.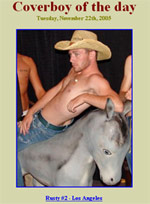 HooBoy's "Coverboy of the Day" is only the beginning for the pretty fairly complete listings of men for hire. Broken down into newest reviews and regularly updated archives, HooBoy's site has men in every category imaginable, with subjective ratings supplied by the clients in a sort of open-ended, sex-SAT-essay form.
Whether you're cruising through the likes of Boston's Billy Skullfucker (is that his maiden name?) or the dynamic duo of Derek Ross and Rick Munroe, HooBoy offers details you want to know before you seal the deal – top or bottom, hairy or smooth, cash or credit. Unsatisfied clients also 'fess up with unedited comments that often seem to confirm the dark side of hooking—drugs and body odor, mostly.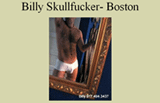 Read other reviews by state, province or country- or send in your own. HooBoy asks only you give some stats about your recent amour, rate his performance and professionalism, and give a brief thumbnail on yourself for a little more Internet verite. Pictures are supplied by the escorts themselves, who know a good thing in the good publicity they get from the site.
Of course, if your escort blows his callers off in the wrong way, or magically appears 20 years older at the front door, a little referee will be posted on his listing to warn others of his poor performance. And that keeps you from blowing cash on a dickwad who can't provide the most basic of transactions. Hey it's your money — put it where someone's mouth is for a change.
See the studs: http://www.male4malescorts.com
Escort Services [Waybig Directory]