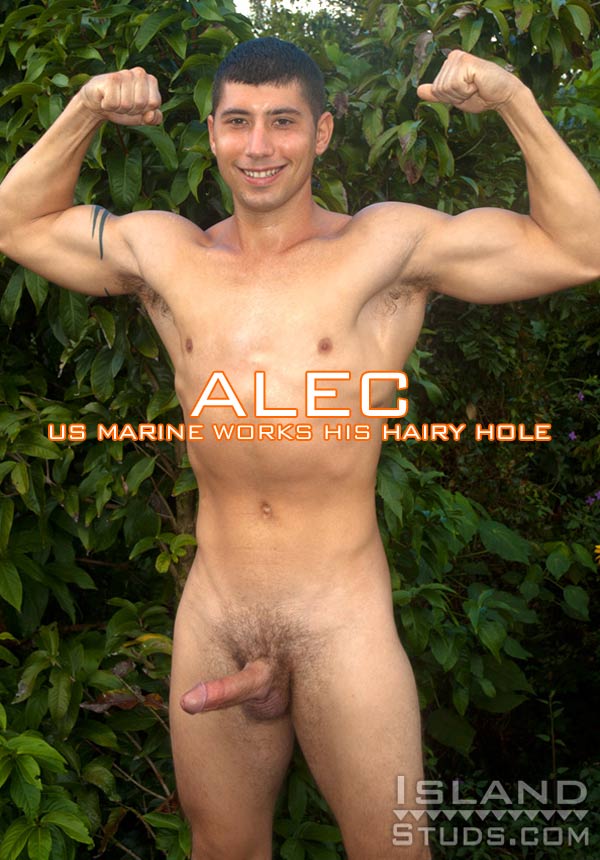 Watch Alec (US Marine Muscle God Works his Hairy Hole!) at IslandStuds
"I can't stop having FUN when I'm NAKED!" Alec says with his big beautiful Greek smile and a laugh as he lifts weights FULLY NUDE outdoors. Alec the former US Marine Muscle God is back jerking his BIG BUSHY COCK in the hot Hawaiian sun! Alec is looking even more ripped and muscular than in his first shoot. This time Alec is completely comfortable with nude modeling and working naked! This 26 year old GREEK GOD loves the camera and it shows! This video is full of priceless moments of him laughing, joking around and talking directly into the camera. You will feel that you are right there with him during his intimate photo shoot. His bright smile and friendly personality shine throughout this film. Alec gets naked and pumps iron
outdoors in the lush tropical jungle! The muscles on his thick arms and strong upper body bulge as he lifts the weights and sweats. Check out his fine muscle butt as he bends over to pick up the weights and perform a series of SQUATS completely nude! His big beautiful dick and
hairy balls swing in the wind as he moves up and down. For our Naked Worker Series we ask Alec to clear out some water plants from the koi fish pond. There is something so sexy about seeing a ripped muscle boy bending over working naked in a lush green setting. Always looking for
fun, Alec finds some passion fruit floating in the pond and spontaneously begins to juggle them! He is full of laughter and smiles as he juggles naked by the pond! Back inside the studio, I ask limber Alec to lay on his back and grab his toes while I photograph him in an
erotic yoga pose. Wow! Sexy muscle bound Alec is very flexible and exposes his hairy man hole for the camera… with a big happy smile on his face squeezed between his cock and furry ball sack! What a sexy sight! After his naked work out, nude pond cleaning, naked juggling and hot naked yoga, Alec confesses on camera that he is very horny and wants for jerk off – OUTSIDE! "It's been 4 days since I busted a nut," he says. Watch how quickly this HORNY beautiful Greek boy gets his dick hard! Alec enjoys his whole body while he jerks off, playing with his cock and balls at the same time. He often gazes right into the camera, excited that everyone is watching. Alec loves to show off his thick hard cock and rock hard abs! What a fine dick and untrimmed dick hair! Alec shoots his cum HIGH into the AIR! Watch closely when he cums. Alec ducks his head down to avoid getting shot in the FACE with HIS OWN CUM! What a shot – all the way over his shoulder and onto his back! Alec completely coats his rock hard abs and chest with creamy white boy goo! He seems very proud of his cum shot and we can see why! "It is time to hit the showers," he says with a big Greek smile. Alec's steamy shower scene is not to be missed. We are pleased military boy Alec is back working out his amazing muscle body and playing with his thick Greek dick! Enjoy!
Watch Alec (US Marine Muscle God Works his Hairy Hole!) at IslandStuds