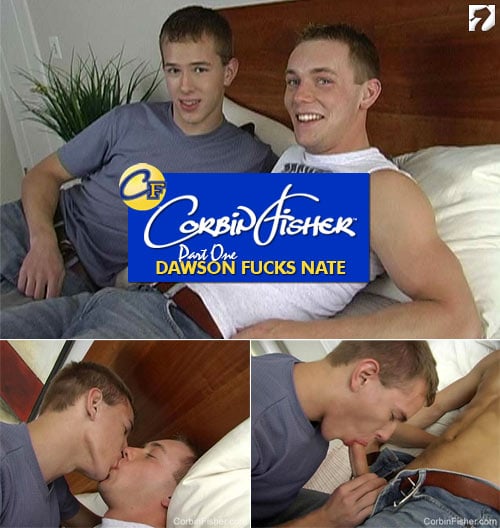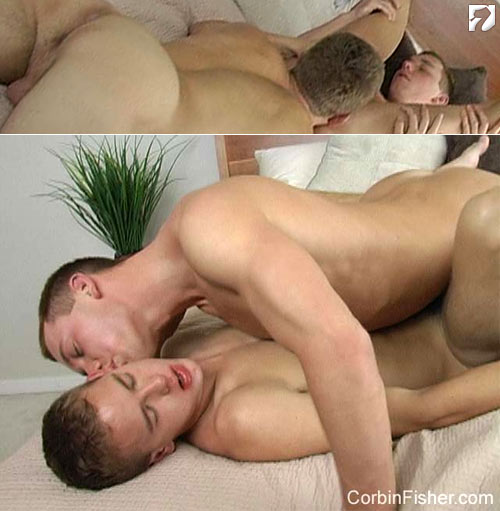 Corbin Fisher writes:
As you can imagine, Dawson's been quite the sensation here at CF since he first appeared on the site. After just two solo videos, we've received as many requests to see more of him – in action, especially – as had been received about any other model prior. And I'll tell you what, I'm on the exact same page as everyone who sent in one of those e-mails!

I wanted to make sure Dawson got teamed up with someone who not only knew what they were doing, but would also show him just how much fun guy-on-guy sex could be! Knowing that bi-boy Nate was a total horndog and ever eager – as well as loved to bottom – I drafted him right quick.

And boy did that ever work out right! Nate's completely openminded, and besides really liking it up the ass, he also loves doing anything that he can see is giving his partner pleasure. You'll see in the video that when Nate starts tongueing Dawson's toes, Dawson really likes it! And when Nate buries his face in Dawson's ass and starts rimming him? That about put Dawson over the edge, which just turned Nate on all the more! Dawson had never been rimmed before and never had a partner eager and willing to lick, touch, nibble on and tongue so many different parts of his body. So when he discovers – before all our very eyes – just how good it feels to get a tongue up your ass he just about goes wild. Indeed, it's so sad and tragic that there are so many hot young college men out there who have never experienced the pleasure of getting one's ass eaten out. Well, for the price of a cup of coffee a day, you're helping end that tragedy! We're performing a service! I should apply for tax-exempt status!

Another of this video's most priceless moments is when Dawson sucks a guy's dick for the first time. Dawson wasn't quite sure what to do with a cock when it was staring him in the face! You really are watching a guy take another man's dick in to his mouth for the first time ever, and I think it shows in how Dawson goes from stroking to rubbing to licking to kissing to stroking again, then what looks like kneading(?), then finally on to some full-on sucking. Eventually he catches on to what's making Nate moan the loudest and like the most, and we've witnessed Dawson learn another lesson.

By this point, the guys are both so horny that I couldn't keep dick from going in to ass if I'd tried (I sure as hell wasn't going to try though, mind you!) and after prepping Nate's hungry hole with his fingers for awhile, Dawson gets him on his back, legs up in the air, and buries himself in to Nate balls-deep. I was but a fly on the wall at this point, as the guys started going at it and fucking like bunnies. These guys were fired up and it was on!

I'll never forget the point in filming this that Dawson went from just wanting to feel pleasure, to wanting and even being turned on by his (male!) partner feeling pleasure. I hope you can sense that point in the video as well, because it's one of those things that keeps every session like this that I film as fresh and fun as the very first.
Visit Corbin Fisher