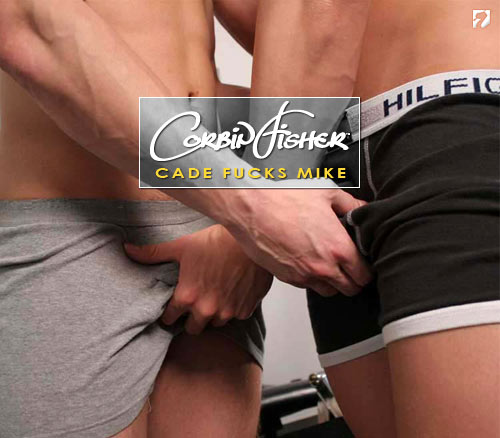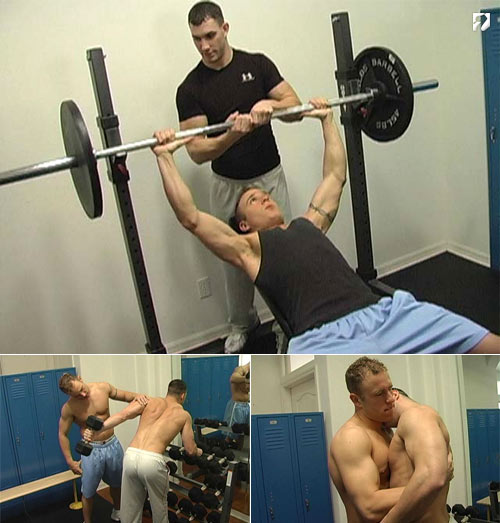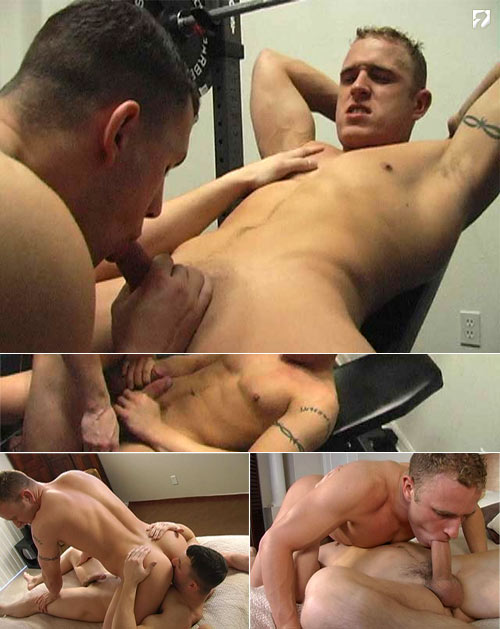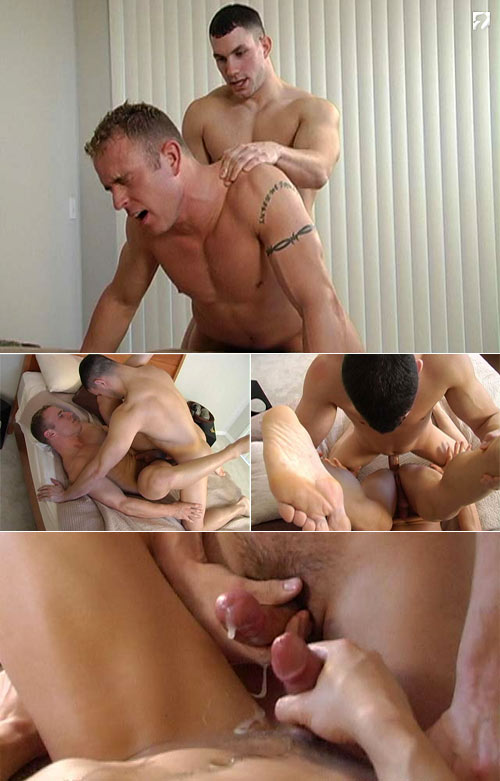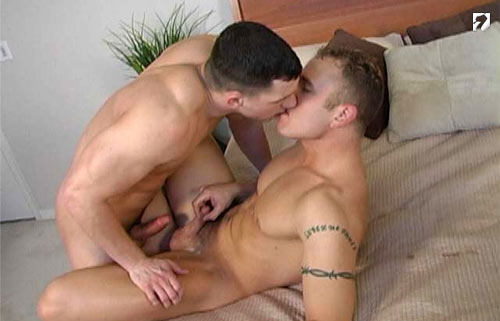 Mike and Cade hit it off really well from the moment they met. It's as if they could both see in one another someone equally committed to and excited about lifting weights and bodybuilding, not to mention the fact that they are both extremely friendly and likeable, very laid back, and also really in to sport bikes. Perfect match! Further still, Mike had shown himself able and willing to get fucked by a hefty-sized dick when he let Pete pop his cherry awhile back, and Cade's cock is practically hard 24/7, always on the lookout for something to plug.
Corbin started off the shoot with both of these hot jocks lifting weights; figuring that'd be the best place to make sure they were both comfortable and ready to go. They both hung out and lifted weights and admiring each others' muscles quickly turned in to feeling up, licking, grabbing, touching, and being wrapped up in each others' muscles!
After some making out and cocksucking, CF had to get these men in to the bedroom before someone got hurt knocking over a few hundred pounds of free-weights! And the bedroom was the perfect place for these guys to really have at one another. You could tell Cade wanted in Mike's ass right away, as he didn't waste any time getting his thumb up in Mike's tight hole and prepping him for a long, hard fuck. With all of those inches of thick dick Cade's got at his disposal, it's a good thing Mike was prepped and ready too! Because Cade drove it in hard and deep, with thrusts that weren't only fast, but also long, pulling almost all the way out before plunging all the way back in.
Mike sure as hell looks and sounds great when he's getting fucked, just as Cade looks awesome thrusting and pounding away. Corbin must have worn out the carpeting running all over the room trying to get every possible angle he could as he spots something else he just had to get in frame! Ultimately, though, it was both of these muscle-studs explosive (and loud!) cumshots that really makes the scene. Mike goes almost animalistic as Cade's drilling pushes him over the top, and that sets Cade off as well!
Wanting to keep showing off just how well these guys were getting along (as well as the amazing staying power of Cade's dick and every possible glimpse of Mike's amazing ass) Corbin followed the guys in to the shower as they got cleaned up after the shoot. Two hot muscle studs fucking. Check. Two hot muscle studs soaking wet and soaped up in the shower. Check. :)
Be sure to hang around for a short little bit of behind-the-scenes footage, as well.
Visit CorbinFisher