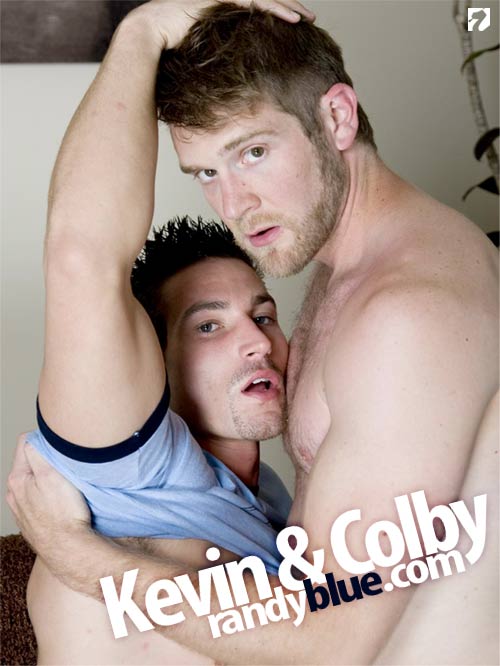 Watch Colby & Kevin's Teaser Clip | Visit RandyBlue.com
Randyblue wrote:
Kevin Falk, or K-Falk as a lot of our members have been calling him, has blossomed from his first video. I remember when I first saw him at a sidewalk cafe and was so taken in by his beautiful body. He looked like a statue, stately, handsome, sculpted pecs, washboard abs and muscular arms. I thought he would be good just being in a video. Even if he didn't do a whole lot he was just so damn good to look at. But man, was I wrong. He's gone from a simple jack off video to being a total oversexed beast. There is no holding back here. You know when you see Kevin's name on a video it's gonna be a hot one. This guy should teach a class on how to suck a cock!

I've been wanting to get Colby Keller back here lately and I figured that since they were both a similar height they might look good together. It was a pleasure to see Colby again and with his new beard he looked really hot. He's got a very natural beauty just bordering on rugged yet still with an adorable face and really sweet disposition. He's also a total horndog. It wasn't long after introducing them that their heat and energy took over and I knew I had to get my camera set up before they started fucking right there and then on the carpet. Kevin went down on Colby and gave a new meaning to the word 'oral'. He gave that cock so much attention you would have thought it was the only cock in the world. His long tongue explored every inch while strategically sucking on and scraping his teeth lightly against Colby's balls, deep throating the shaft and throttling the head with his lips. It's no wonder Colby's moans could be heard across town. Colby doesn't let him have all the fun. He goes down on Kevin's enormous cock before burying his face deep in his hot ass, getting it all slick and ready to be plowed. But Kevin is anything but a passive bottom and rode Colby's cock, talking dirty and pretty much driving the whole scene. Then, when it came time for Kevin to ram his manmeat deep into Kevin's gut, they were both so turned on I thought they were going to explode. And in a way they did, each with their own explosive orgasms shooting loads of cum all over Kevin's sweaty body.