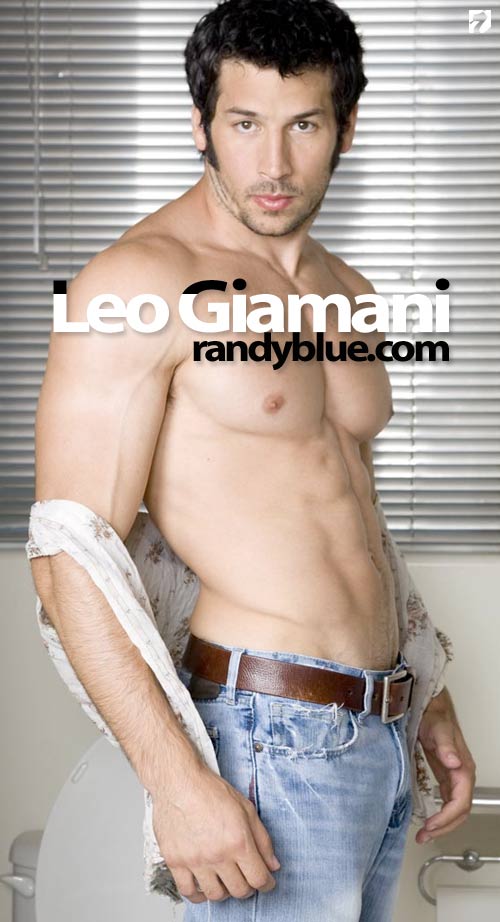 Watch Leo's Teaser Clip | Visit RandyBlue.com
Randy wrote:
Leo Giamani has recently moved from New York to LA, and for good reason… There is no way in hell a body like that should be kept hidden under so many clothes during fall, winter and spring. Now, don't get me wrong, we do have seasons in LA but there are many more opportunities for a hunk like Leo to go shirtless all year in Southern California. Leaving behind New York City where he worked handling a huge hose (he was a fireman), he now spends his day handling his own big hose, which I'm sure is comparable with any he's used to fight fire with. In a way it's almost a shame, because once you get a glimpse of this piece of meat you almost forget the amazing body that is attached to it.

This guy loves to work out and stay active. He's really into power yoga, and believe me I'd love to do a downward dog with this stud. Leo has also recently discovered rock climbing, an activity that takes a lot of physical prowess. But with a body like that I'm sure he's up to it. He has these huge muscular arms and a massive chest and if he gave you a hug you would just get lost in the mounds of rock hard flesh. His legs are like tree trunks, strong and firm. And he's very natural in his body hair, which I love. The guy brings new meaning to the word masculine. I am so in love with his body that during the video I made him do some flexing, especially because I know you guys love it when they flex during the live shows.

Now, back to his cock. This thing is huge. And it's really something to see him work it with both hands. You can tell he loves jerking off because he has it down to a science. He works that slab of beef for all it's worth, running his fingers over every inch, feeling every sensation, lightly squeezing his balls, going soft and smooth then humping his two clenched fists like a jackhammer. And when he's getting ready to cum it's like watching him turn into the Hulk. Every muscle flexes as droplets of sweat create a light sheen all over his skin. His breathing quickens and you can feel the energy as he focuses every bit of his being into the head of his cock, moaning in a soft breathy grunt that says his load is coming. Then, the amazing bodily control from years of yoga takes over and he backs off just enough so that when he sprays his load it's more like a sweet full body shudder rather than a harsh explosion and the look on his face is pure bliss. Believe me, this is one video you'll be watching over and over.