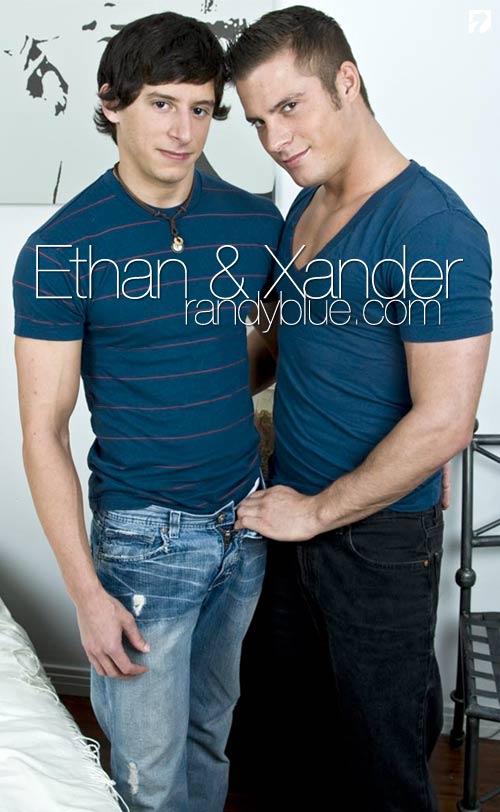 Watch Ethan & Xander's Teaser Clip | Visit RandyBlue.com
Randyblue wrote:
I was having a conversation with Ethan Parker the other day and I asked him if and when he was ever going to bottom on Randy Blue. I could hear this bashful sound in his voice like he wanted to say something but needed to get up the courage. I assured him he could tell me anything. He said that he was ready but he had someone specific in mind but he didn't know if I let the guys ever pick their partners. Now, you guys know me better than that. If I know two guys want to work together I will put them together without a second thought because you and I both know it's going to be a killer scene. So with that adorable puppy-like tone in his voice he asked if it could be Xander Scott to pound his ass for the first time. Images of the two of them engaged in some of the hottest sex suddenly jumped into my head and stayed there for a few days. Needless to say, Xander couldn't wait to bust Ethan's cherry.

The day of the shoot Ethan looked better than ever. He's always looked good but if I didn't know better I'd think he worked in some extra time at the gym to be even more buff than usual. His arms are getting big and his body is just amazing. Xander has also been working out a lot and is in fine form. With his adorable face and super hot body it's no wonder so many people adore him. He gave Ethan such a hot ride, making it smooth and easy for him but rising in intensity in such a way that Ethan was totally lost in it all. I don't know what he might have been expecting from his first time but it quickly became obvious that he really got into. And one of my favorite things in watching Xander is the look on his face just after he's cum. Soft, a little flush, and just basking in the afterglow. That's when he's at his sexiest for me. And speaking of cum, he let loose a gusher all over Ethan, who quickly followed with a slow, steady stream that must have felt amazing.