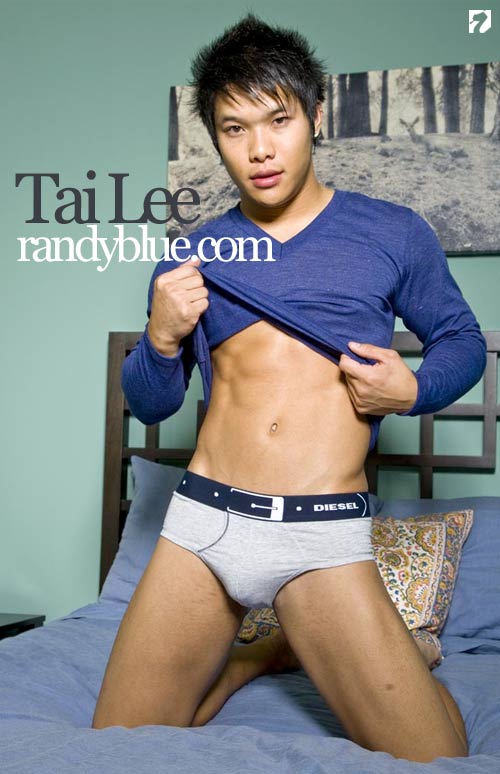 Watch Tai's Teaser Clip | Visit RandyBlue.com
Randyblue wrote:
I was at a really funky Hollywood party recently and I was having a really great time. The food was good, the music was blaring and the guys were way hot. At one point I found myself off in a quiet corner, needing to get away from everyone for a few minutes so I could enjoy my cocktail, when I overheard a conversation from behind me. This guy was explaining to someone that he wasn't a model but that it was something he had always wanted to try. Well, I had to look for myself. I turned around and my eyes fell on the most adorable angelic face I'd seen in quite a while. My jaw must have hit the floor because he giggled and extended his hand to shake mine.

He told me his name was Tai Lee. I asked him what his thoughts on modeling were, why he might want to try it. He said that he loves showing his body off and that he thought it would be really hot to show it off to thousands of people at once by jerking off on a website. I almost wanted to look around to see if my friends were nearby playing a prank on me. It was almost too perfect. I gave him my card and he came in. I don't have the opportunity to shoot Asian guys all that often and there is something about them that I've always found really sexy, so I was really excited. His body is flawless, with perfect muscle definition, a chiseled torso that leads down to a hot pair of cumgutters and a nice uncut cock.

He did such a great job, quietly exploring his body with his fingers, gently stroking his dick, making sure to rub the foreskin up and down over the head. And when he came he erupted like a volcano, a white spray of cum spreading all over his smooth chest. It was just breathtaking.