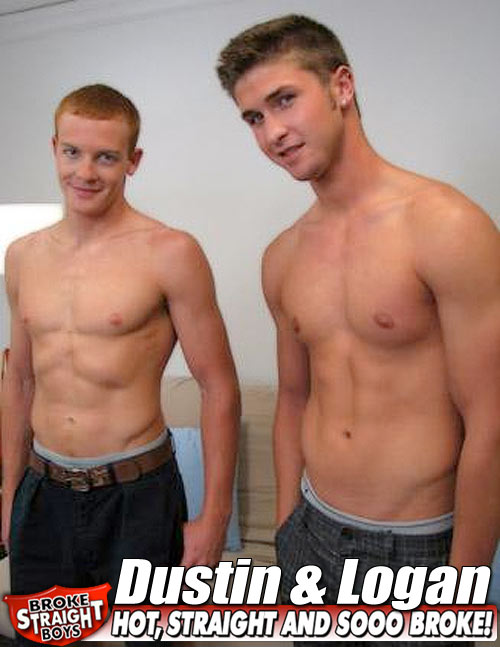 Watch Logan & Dustin at BrokeStraightBoys.com
BSB wrote:
Our newest model is Dustin, 23, straight, has a girlfriend, and has a southern accent from Nashville, Tennessee. When he arrived at the studio for the first time he told me that he was broke, because his girlfriend goes crazy with his credit card, and he needs to pay some of it down. I explained to Dustin that we were a gay owned and operated studio and he said that he was fine with that. Before he came down here we talked on the phone about what I would put him in, and he decided to do some work for Broke Straight Boys. I just told him that the first shoot just shows me what he looks like, and then from there the shoots pay out a whole lot more. So far Dustin was on board with everything, I asked him to go ahead and stand for me to take off his shirt. Standing he is 5'11", 165 pounds, and he has a size 13 shoe. Taking off his shirt, his body showed that he works out and takes care of himself. Dustin had a set of abs going on and some pec muscles to go with them as well. Overall, he was shaping up nicely in front of the camera, and I asked him to continue with taking off his shorts. Once he had them off and was left standing in his boxers I told him that I had another model waiting and that I was kind of crunched for time.

Pausing for a moment Dustin really didn't know how to take what I just told him, and I asked if he could join in on the shoot. There would be no kissing or touching of any kind, and that the model has been here and done shoots with us before. The model that I had waiting was Logan and in my mind I knew the two of them were going to be a prefect fit. I asked Dustin if he had ever jerked off with any of his buddies in the room and his response was that he wanted to plead the 5th. Drilling him a little more I found out that he had a moment where there was some porn on and a couple of guys including him were jerking off to it, but were far part in the room from one another. I went and grabbed Logan to bring him into the room, and I explained to Logan right away that there was going to be no contact and that Dustin is very straight. I knew that Logan didn't care it was just easy work for him, and we kind of talked to Logan about some of the Broke Straight Boy Events he has been doing.

I had Logan strip down to his underwear to catch up with Dustin, and as Logan got out of his clothes I noticed that he was in better shape. His abs, pecs, and body seemed to be more toned. Plus, his skin had a little more color to it, showing that he was spending some more time out in the sun. He took a seat on the couch, the two of them started to play with themselves inside their underwear. After a few minutes I had them take off their underwear, so that I could see their cocks. As I took a closer look at Dustin's dick I couldn't help, but notice that his pubic hair matched his red hair. He was a true fire crotch, and the first one that I had ever had. I stepped back and then I asked if he had an ass that matched the nice cock that he had. He stood up to spin around to show me, and sure enough it was very nice. You could easily put a cheek in one hand for a good squeeze. To compare I had Logan stand up and show his ass as well. Both guys had hot butts, and they wouldn't be noticed in their baggy clothes they wear.

I offered for the guys to make an extra $100 a piece if they jerked off and could to get off at the same time. Both seemed up for the challenge in order to make the extra money. Watching the porn they got harder and Logan I notice took a couple glances over at Dustin. The guys were quiet as they stroked their cocks, and as they did their thing I walked by each of them to get close ups. At one point both guys used lube in order to speed things along. After a couple of minutes Logan's breathing started to change and then he gave his warning that he was about to get off. After that Dustin came a couple minutes later. The best way to describe Dustin's cum shot was like popping a zit. The first burst made it up to his nipple and the rest was sprayed all over his stomach. I just hope that I can get Dustin to come back in to do more with a guy, we will work on it.