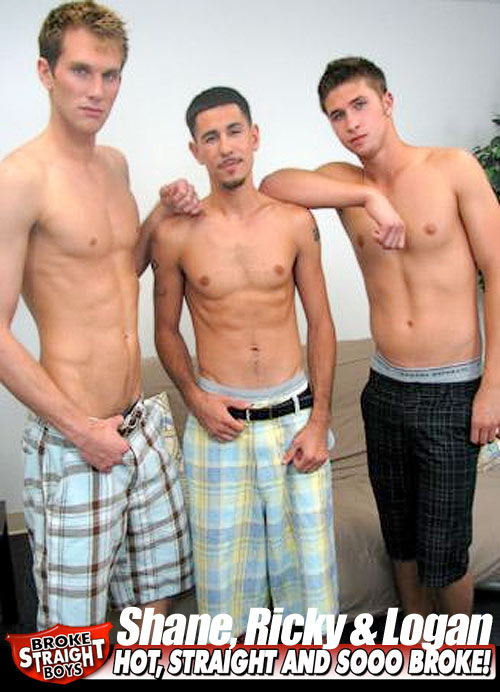 Watch Logan, Shane & Ricky at BrokeStraightBoys.com
BSB wrote:
In talking to Ricky over the phone I told him that I could have some work for him if he was interested, the only thing was that it involved anal and I know that was something that he has never tried. Giving him the opportunity to make some good money for bottoming, he couldn't really pass up the chance make $1500 since he has no income coming in. Ricky agreed to try it, so I called up the other boys I had in mind to join in and arranged for them to come to the studio the following day. The day of the shoot I had Ricky go into the shoot room and take a seat on the couch, while the other guys were in the back room. I wanted to try and keep Ricky as calm as possible, so that he wouldn't back out on me. Ricky has been doing very well with us, and I recapped the conversations that we have had on the phone on film. I explained that Ricky has done a solo shoot, and an oral shoot winning the dick sucking contest we had. Keeping with the theme of contests I told him that we were going to have another one, and Ricky asked what kind. That's when I called the other guys into the room.

Shane and Logan walked in the room and took a seat on the couch around Ricky who was sitting in the middle. Pointing out that I knew Logan was only interested in topping and that Shane really only preferred to top as well. Ricky kind of had no other choice but to bottom, however he knew that was going to give him a nice size check. Giving them the rules of the contest I told Ricky that I wanted to see how long he could get fucked, and who could fuck him the best. Logan burst out laughing about the fact that he felt bad for Ricky's ass. The plan was that guy that fucked Ricky the best was going to make $1500, and as long as Ricky could take the fucking he would make $1800. The final prize was the top that made Ricky cum from just the fucking alone was going to get paid an even $2000. I told Ricky that he could stroke his dick or just sit there the choice was up to him, they just have to be inside his hole when he came to claim the prize money. The last twist to the contest was that the loser makes nothing for the shoot, and if Ricky backs out than he makes no money as well. The plan was to see who would do the best, and give a great performance.

Giving the guys the go ahead to get undressed they stood up to strip off their shirts first, and paused. I told them that there was no need to wait they could go right for their shorts. As they kicked off their shoes, one of them hit the wall that I had just painted and we kind of laughed about it. Letting them take a seat on the couch, while I put on some porn I told Ricky it was going to be time for oral. We needed both of the top boys to get as hard as possible to fuck his tight, virgin ass. In looking the guys over, it seemed like Shane was already hard and Logan was the one that could use some help. I had Ricky start with giving head to Logan, who went ahead and took his underwear off. Shane was looking a little alone on the end of the couch, so I told him that he could give Ricky head. The guys had to pause as the rest of the underwear had to come off for them to start back up again. Watching the guys give oral, everyone's cocks were getting hard and when Ricky stopped to admire the job Shane was doing. Logan directed Ricky's mouth back to his dick for him to continue sucking. I got behind Shane who was down on the floor and was able to catch a look at his asshole with his ass cheeks wide apart.

The guys switched the oral up and went in the other direction on the couch in order for Shane to get a blow job before the fucking was to get started. After a few minutes it was clear that they were ready to get on to the fucking, so I had them break and get the couch into a bed. Ricky hopped on his back and put his legs up. It was decided that Logan would go first in fucking, because his dick was just a little bit smaller than Shane's and that would help to loosen Ricky up. I do have to say that Logan was very gentle in the way that he started the fucking off. Then, all three guys seemed to click and get into the action with one another. As Logan seemed to be able to fuck Ricky deeper with his cock and faster, Shane moved over and put his balls over Ricky's mouth to have him suck on them. One thing always seems to be true, that if the bottom has something to do it keeps his mind off of the fucking that his hole was receiving. Logan even made a comment about how tight Ricky's hole was to fuck, and Shane got turned on by hearing that. The guys did switch and Shane got his chance at fucking, and Ricky moaned like the girls on the straight porn that we had playing in the background. It made me believe that the topping boys were turned on by treating Ricky like their little bitch. Logan face fucked Ricky forcing his cock down his throat, while Ricky tried to slow Shane down using his hand.

It was clear that the guys that were doing to fucking were getting close to cumming and Ricky was getting burned out on taking it up his ass. Logan was up by Ricky's head jerking off and I wondered if Ricky or Logan was going to cum first. Ricky seemed to calm down and enjoy it more when Shane took over jerking off his cock with some lube. Logan let out that he was going to cum, and busted his nut on Ricky's chest. Shane was turned on by the cum, and he was next in shooting his load right on to Ricky's stomach. Ricky wasn't able to get off after that, but I have to say that both Shane and Logan did a hot job fucking Ricky for his first time making it a fun shoot.