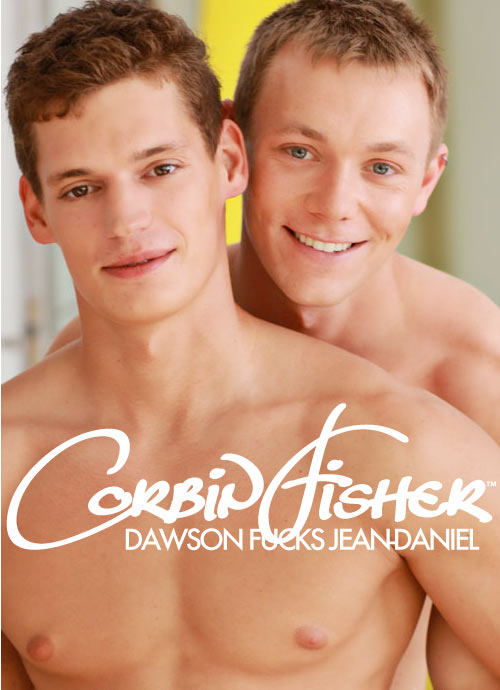 Watch Dawson & JD at CorbinFisher.com
Corbin wrote:
In this latest video to come out of our joint shoot with Bel Ami in Europe last year, we're treated to a hot fuck with Dawson and Jean-Daniel! Dawson is one of CF's best tops, and Jean-Daniel is one of Bel Ami's best bottoms! So you know you're in for some hot action when you get these two paired up with one another!

Indeed, they can hardly wait to get in to the action! They're still in the stairwell as they start to feel one another up and make out, before moving to a more private location so that Jean-Daniel can get Dawson's shirt off, get his cock out of his pants, and start to suck it!

Jean-Daniel looks like he just can't get enough of Dawson's dick as he sucks it! He actually knew, for several days, that he was going to end up getting fucked by Dawson, before we got around to filming this one. When George and I were going over which models we were going to have along for the joint shoot and which ones made for hot tops and hot bottoms, pairing Dawson and Jean-Daniel up together was a decision we'd each made early on! The guys got word, towards the beginning of the shoot, who would end up with whom and so both Dawson and Jean-Daniel knew it was only a matter of time before they were going to end up fucking in front of our cameras. That anticipation seemed to have led to there being quite a lot of energy between them and it all makes for some incredibly hot sex!

Neither can get enough of the other's cock as they trade blowjobs, their clothes gradually coming off until each is fully naked, fully hard, and fully horned up! As they make out and rub their dicks together, we can already see Dawson pumping and thrusting his hips, as if he just can't wait to get his dick inside Jean-Daniel's ass to fuck him.

Jean-Daniel starts asking for it, almost begging to get fucked! Dawson is eager to oblige, and soon has Jean-Daniel on his side so he can slide his dick in to him from behind. Dawson's hips are a blur as he pumps his dick in and out of Jean-Daniel's ass!

Dawson then lays on his back and lets Jean-Daniel straddle him. Again, there's some furious and fast-paced pounding as Dawson thrusts his cock up in to Jean-Daniel's ass! Jean-Daniel also moves his ass up and down, fucking himself on Dawson's cock as both guys are totally consumed by how good it all feels!

While on his back, with Dawson's hard dick pumping his ass, Jean-Daniel starts to cum! He paints his hard abs with a huge load that just keeps shooting out of his dick! Immediately thereafter, Dawson pulls his dick out of Jean-Daniel's ass to shoot one of the biggest loads I've ever seen him fire off! He adds massive spurts of cum to Jean-Daniel's already soaked abs and chest! It was definitely worth crossing an ocean to film this one!