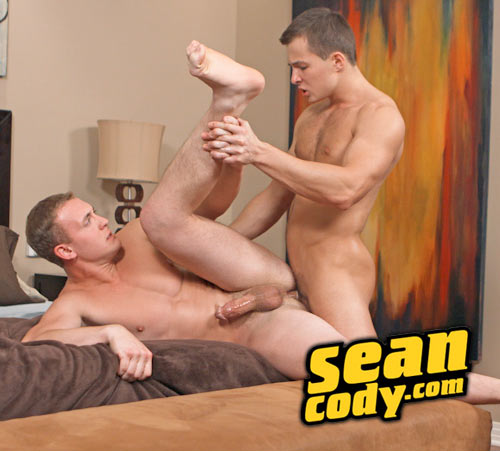 Watch Yuri & Peter at SeanCody.com
Yuri likes acting, and he wants to be famous.
"I want an Oscar," Yuri joked.
Well, maybe not for what he's doing here! But if they gave awards for fucking, I think he'd have a shot!
When I first met Peter, I wasn't sure he'd even be interested in having sex with another guy, let alone do it on camera. So, when I asked him and he said "sure," I knew Yuri would be the perfect one to pair him with. After all, Yuri wants to be famous and if he must be famous for something, it might as well be for fucking hot American ass!
Both of their bodies are in sick shape so having them go at, together, was a great time all around. When they met, the chemistry was instant. Yuri stepped right up to the role of top and wasted no time diving in to Peter's sweet, virgin pucker. He's like a little jack rabbit, hammering away at Peter's hole in positions both horizontal and vertical, abs engaged with every fast, intense thrust.
Yuri jacked Peter's thick cock while he plowed him on the bed until Peter shot a huge load all over his stomach. Yuri let Peter enjoy his climax for a short minute before he pulled out and shot his own giant load all over Peter's stomach!