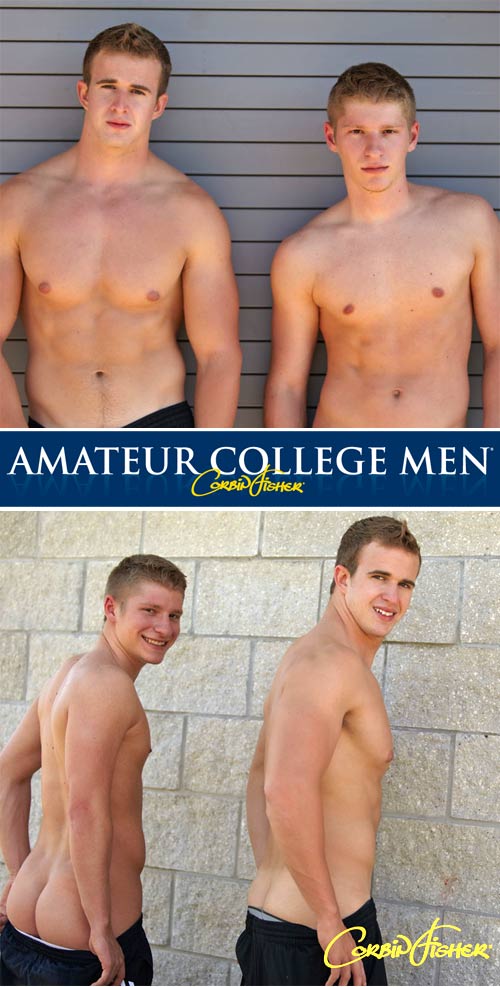 Watch Josh Fucks Foster at CorbinFisher.com
Corbin Fisher wrote:
Josh and freshman Foster are shooting pool. Once Josh sinks a particularly good shot, he decides he's ready to sink something long and hard into Foster!

The two go out to the gazebo. It's gorgeous sunny day. Both guys waste no time kissing and undressing each other. Once Josh sees Foster's muscular torso, he explores every inch of it with his tongue. He kisses his way down Foster's ripped abs. He sucks Foster's cock, licking the shaft before going down on it.

Josh spits on Foster's dick and it slides all the way down his throat. Foster moans with pleasure as Josh deepthroats his cock. They kiss again. Foster's completely horned up and can't wait for Josh to drive his dick into his ass.

Foster bends over. Josh slides his big cock into Foster's tight ass. Foster groans in ecstasy. Josh pounds Foster faster and faster. "Oh yeah!" Foster yells, as Josh smacks his ass and drives him face first into the cushion.

Josh flips Foster over. Spitting on his hard cock, Josh shoves it back inside Foster. Josh jackhammers Foster. Foster's meaty pecs bounce as Josh fucks him.

It doesn't take long for Josh to fuck a thick wet load out of Foster! He shoots all over his ripped abs. As much as Foster came, though, Josh shoots even more, spraying Foster all the way up his chest! It's a hot ending to a cool game of pool!
Watch Josh Fucks Foster at CorbinFisher.com