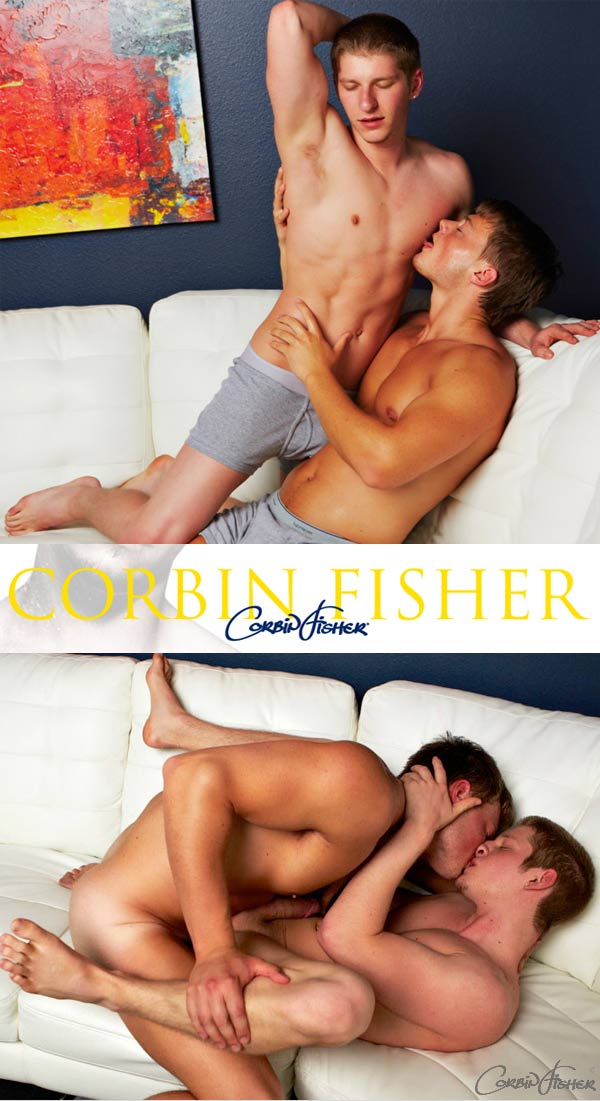 Watch Cort & Josh at CorbinFisher.com
NOTICE: This video was filmed without the use of condoms. Individuals should be comfortable with such material before viewing.
Guitar-strumming Cort hasn't been here since last summer. But we're sure glad he's back, because now he's going to have his first guy/guy experience with Josh!
As Josh tells Cort, he's used to breaking guys in around CF. And who wouldn't want to be broken in by Josh? That delicious bubble butt, those eyes and that tight body!
Cort and Josh kiss. Cort eagerly bites Josh's nipple and looks ecstatic as Josh kisses up and down Cort's torso. Josh pulls Cort's pants off and sucks his dick. Cort's cock stiffens in Josh's mouth. Cort has a great body and his tan line emphasizes his awesome dick and ass as well.
Josh sucks and strokes, as well as sucks Cort's nuts. He deepthroats Cort's cock. Pushing Cort's legs up, Josh rims Cort deeply. Cort strokes his dick as Josh shoves his tongue into Cort's ass.
The guys flip positions and Cort slides his cock into Josh's ass. Cort ramps up the intensity and pounds Josh good and hard. Josh's dick is stiff as a board as Cort fucks him.
Cort strokes Josh's cock as he fucks him. "Your hole feels so good," Cort tells Josh. The guys kiss and Josh bends over the sofa so Cort can pound him doggy-style.
Cort rams his cock into Josh even faster. Josh blows his load onto the white sofa. Cort keeps fucking Josh's ass. He pulls out and shoots his load all onto Josh's ass.
Now that Josh's broken Cort in as a top, you can be sure I'll try to get him to get broken in as a bottom as well!