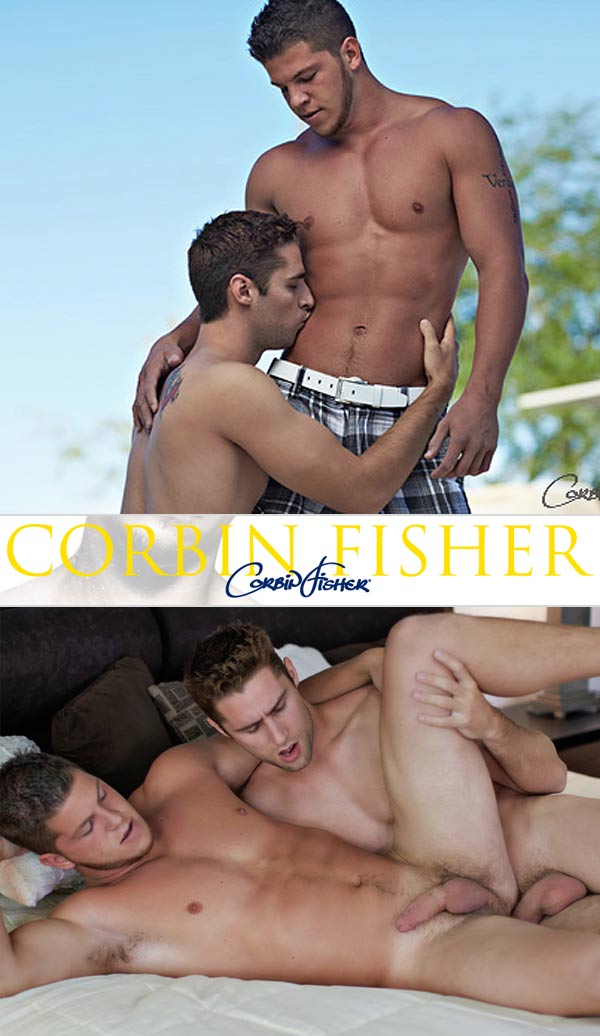 Watch Ashton & Harper at CorbinFisher.com
NOTICE: This video was filmed without the use of condoms. Individuals should be comfortable with such material before viewing.
I bet you didn't think Ashton was going to get fucked, didn't you? I kind of thought that too – till we brought out the big guns of Harper being his first!
Ashton told me he had a great time with Dawson. Still, he was nervous about getting fucked himself. He kept talking about it, though, so I knew he was curious.
Harper and Ashton got to know each other in the gym and that made it even easier for Ashton to get used to the idea. Ashton admitted he's played with a dildo before, but this is his first cock!
Harper kisses Ashton and then sucks his dick. He fingers Ashton for a bit to get Ashton ready for his cock.
Ashton turns around and shows Harper how much he's learned about cocksucking. He goes down on Harper – and Harper keeps playing with Ashton's ass!
Harper gets Ashton on his side and slowly penetrates Ashton's fine ass. He pushes his cock into Ashton's hole. Harper thrusts his cock in and out slowly. Ashton moans as Harper fucks him. Harper leans over him, pushing Ashton's legs higher in the air and pumps his cock into his ass even farther.
Harper fucks Ashton doggy-style. Ashton strokes his cock as he gets fucked. Harper fucks a thick load out of Ashton! Cum sprays on the bed. Harper keeps pounding Ashton until he's ready to cum. He blows his laod into Ashton's mouth.
Ashton sucks Harper's cock dry and the guys kiss. The guys take a shower and Ashton talks about how hot it was. Hopefully I can keep him around here to get fucked again!
Watch Ashton & Harper at CorbinFisher.com