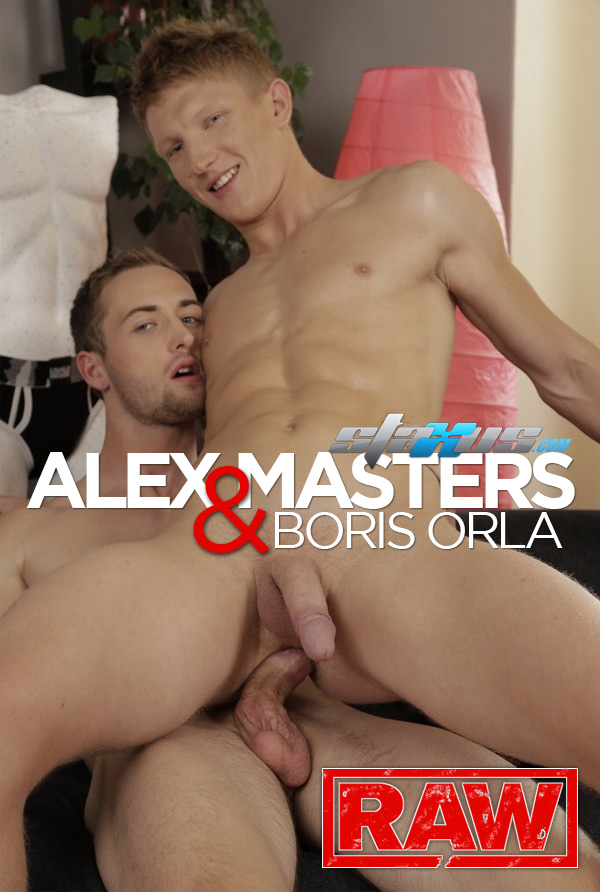 Watch Alex Masters & Boris Orla at Staxus
Inspired artistry – or just a rather warped, perverse fantasy? The idea of falling in love (or, in this case, lust) with a mannequin is not entirely new, but it sure as fuck stands this terrific scene out from the crowd. Indeed, we hazard a guess that there aren't too many porn vignettes that you've ever seen that begin with the protagonist – in this case Alex Masters – snogging the face off a shop-dummy!
Weird, kinky, call it what you like, but it's not long before the faceless stooge has magically transformed itself into Boris Orla, a blond-haired beauty that you almost certainly wouldn't want to kick out of bed in a hurry. Certainly stubble-faced Masters seems to respond to the changeover with gusto, quickly stripping Orla out of his jocks and then feasting on the handsome length of hardened flesh that he finds between the fellow's legs.
Having then experienced Orla's oral talents on his own dick, Masters instigates a delightfully robust top-to-toe session; before eventually succumbing to temptation and parting his legs to every swollen inch that his blond fantasy can muster. Not that Masters' use of his blond fantasy is limited to acting as bottom. No, he's more than capable of flip-flopping into the dominant force in this amazing escapade; before producing what has to be one of the best money-shots around, with a truly volcanic eruption that has Orla grinning like the proverbial Cheshire Cat in appreciation!