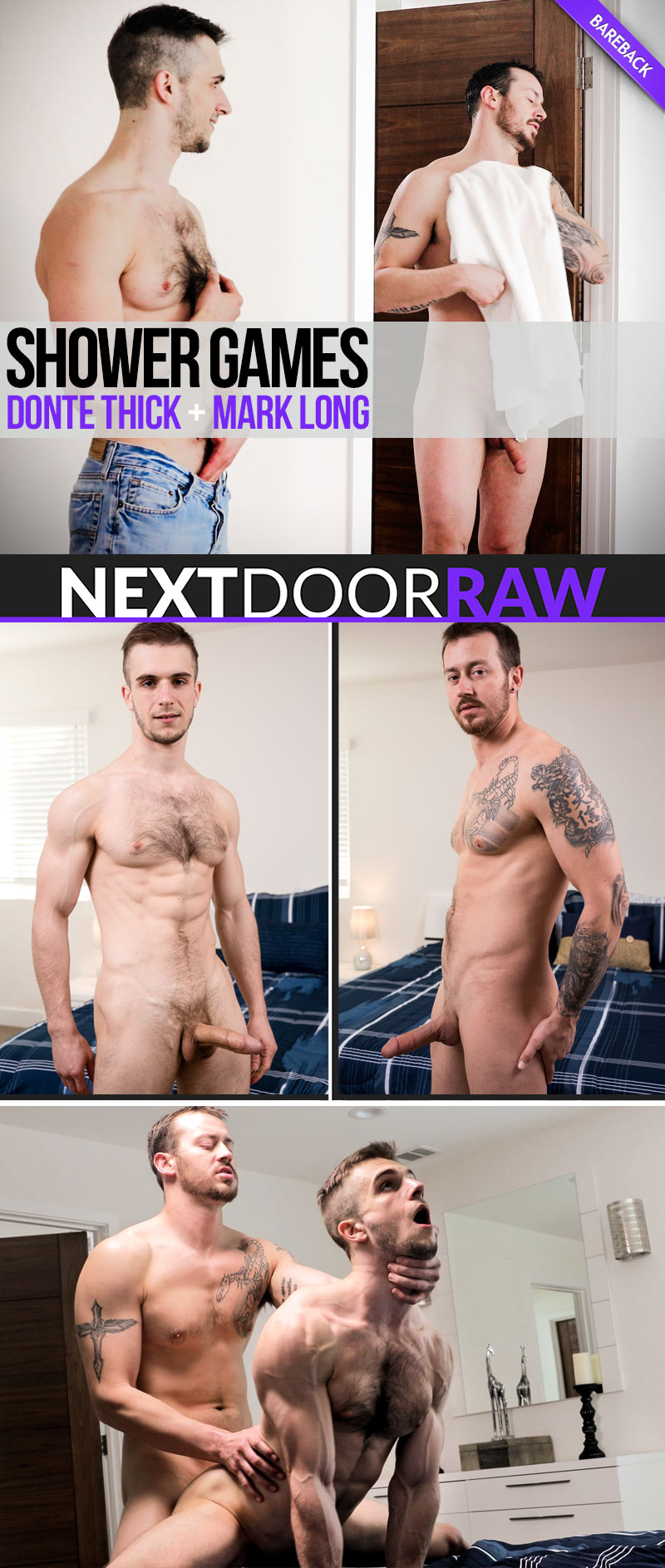 Mark Long and Donte Thick Flip-Fuck in 'Shower Games' Scene Summary:
With roomie Mark Long taking a shower, Donte Thick decides now is the perfect time to make his move. Stealing his towel, Donte creeps around the corner and waits. Mark comes out of the shower, bewildered, but naked and dripping wet. Donte confesses that he stole Mark's towel but tells him he had a reason. Mark asks him what is the reason is as he dries his face.
Donte Thick falls to his knees and quickly deep throats Mark's giant cock. This causes Mark's eyes to widen as he says 'Oh,' and Donte Thick takes this as confirmation to keep going. He sucks Mark off until he's nice and hard, then is surprised when Mark throws him back up onto the bed and returns the favor. It seems Mark Long's been harboring the same urges for Donte. Mark plunges his rock hard cock deep into Donte's raw hole, and fulfill's a fantasy for both of them.
Mark Long fucks Donte Thick hard from behind. He grabs him by the waist and pulling him in closer as he thrusts his meaty cock deeper inside. Donte Thick takes every push willingly, begging Mark to keep it up. But before Mark delivers on that promise, he wants to feel Donte inside of him. Mark rolls Donte over and mounts him, sliding onto Donte's dick and riding it reverse. All while Donte watches Mark's ass bouncing up and down.
Donte Thick gives Mark Long a nice ride as Mark strokes himself off, and once he's had his fill, the dismounts and spreads Donte's legs wide open, slipping his dick inside and proceeds to pound Donte until he's ready to spit.
Mark Long pulls out and coats the hole with his jizz as Donte Thick strokes himself dry, shooting his load straight up and landing all over his stomach. Enjoy!
Watch as Mark Long and Donte Thick Flip-Fuck at NextDoorSTUDIOS