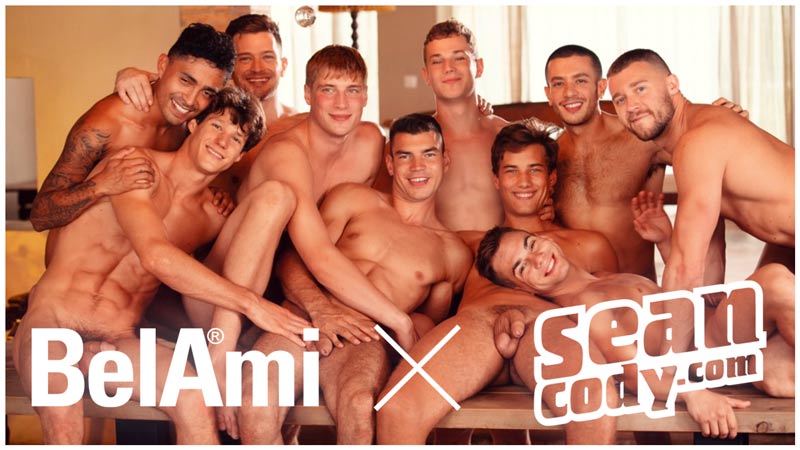 Photos From BelAmi and SeanCody's Upcoming Collaboration at BelAmiOnline
BelAmi and Sean Cody are thrilled to release the series trailer for the gay porn collaboration of the decade, 'BelAmi X Sean Cody', the one-of-a-kind production filmed by award-winning director Alter Sin on location from a stunning Spanish villa in Barcelona.
The 'BelAmi X Sean Cody' series trailer features some of each studios most popular performers in eye-popping action including BelAmi stars: Ethan O'Pry, Ashton Montana, Tom Houston, Bart Cuban, Jim Durden, and Yannis Paulan, along with Sean Cody stars: Asher (a.k.a. Ricky Donovan), Deacon (a.k.a. Johnny Donovan), Justin, and Manny (a.k.a. Diego Daniels)!
The series debuts on Black Friday, November 26th, with the first scene starring BelAmi's Tom Houston with Sean Cody's Justin! This perfect duo pairing will kick the series off with a bang and will debut on both studios award-winning membership sites, BelAmiOnline.com and SeanCody.com, concurrently.
BelAmi's Publicist says of the collaboration: "This is a once in a decade collaboration if we are lucky. To see these two iconic brands come together to create this exceptional content is something to be celebrated. I'm certain this will be the series of the year."
To celebrate this collaboration of the decade, BelAmi and Sean Cody is doing a scene swap, whereby each studio will put some of their most popular scenes on each other's hugely popular membership sites as bonus updates for their members.