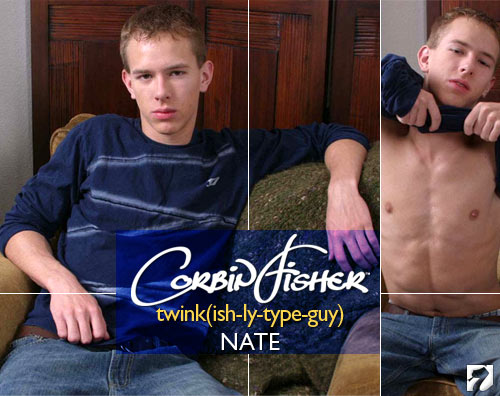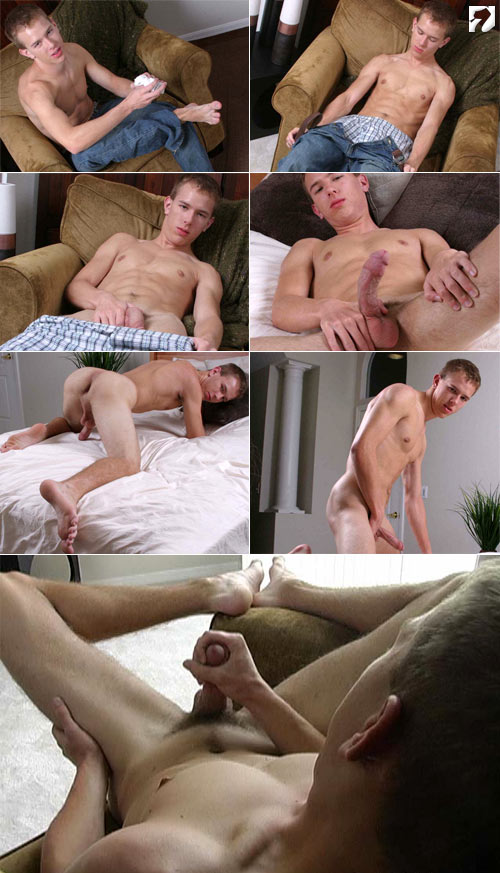 When you do what CorbinFisher does for a living you end up really seeing that there are so many different types of "beautiful" when it comes to guys. When he's out going about his day with CF's model scout hat on or checking out model applications sent in to the site, he says that he constantly finds myself thinking "Wow, he's hot!". There are just so damn many hot guys out there in this world (and he's going after every single one, he assured us!). It's why he doesn't limit himself to a single type of guy – be it straight, bi, gay, white, tall, buff, whatever – on CF. The thing is, you can have such diverse types of guys, all of whom are still hot as hell!
Nate illustrates that point exactly. He's not the muscular, straight-guy stud with which CF has almost become synonymous. Rather, he's a cute, young (just turned 18!), lean and tight-bodied… dare we say… twink? Twinkish type? Somewhat twink-ly guy? Have we adopted a PC term for that yet?
Whatever you want to call him, you'll see just why it was that Corbin liked him so much when he first spotted him and why he wanted Nate down there for a shoot right away. He's flat-out adorable, and entirely sexy. Not to mention the fact that he's one horny young guy that gets in to both girls and guys, so long as they're hot and can keep up with him.
Knowing he was in to guys and girls, CF pegged him as the ideal candidate to break some straight studs in to the world of gay sex at some point down the line. An innocent-looking young twink(ish-ly-type-guy) who goes from angel to devil in 4.2 seconds flat when unleashed upon some straight stud he's been tasked with educating. Oh what fun!
Check out Nate's solo, where CF is feeling him out for just such a scenario and admittedly distracted by what he's imagining Nate doing with a straight guy at some point in the future. Corbin will keep us posted should he pull that scenario off but in the meantime, here's this cute college boy's solo to get you all fired up and randy!