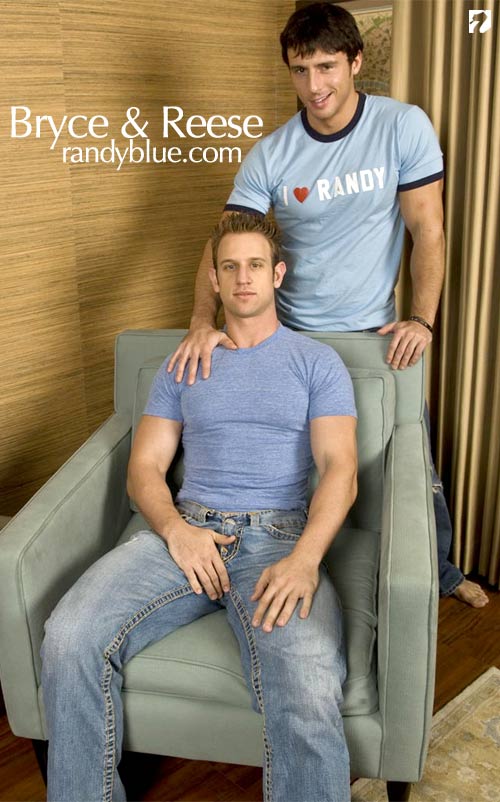 Watch Bryce & Reese's Teaser Clip | Visit RandyBlue.com
Randyblue wrote:
Reese Rideout can't get a moment's rest. If he's not doing a photo shoot for another magazine, he's off doing personal appearances as Men's Magazine Man of the Year. But even with his busy schedule he always makes time to make a super hot video for you guys. He's in perfect shape, adorable as always and his award winning personality shines through no matter if he's strutting his stuff on stage or fucking a hot ass in a video. And with his amazing body and gorgeous cock it's no wonder he's been getting so much praise lately.

One of our newest guys who's been proving to be an exceptional talent is Bryce Barrington. His videos with Leo and Braden were some of the hottest and he's aching to do more. I knew that putting him with Reese would give you guys the kind of video you'd have to put into your favorites the minute it was finished. Well, after you clean yourself up first. The two of them had an amazing chemistry together and it really shows. Bryce loves sucking cock and takes Reese's humongous rod all the way down his open throat. Bryce gives it his full attention, making Reese so horny that he can't wait to ram it up his hungry hole. And while he starts off by sliding it gently in, after a little while he's ramming that man ass for all it's worth.

And Bryce can't get enough of it. In fact, he's so into his ass that he's not even concerned with his cock. And that's just as well because Reese pounds him in a bunch of different positions, the last of which is any ravenous bottom boy's dream, face down over the side of the bed letting Reese shove every last inch of his huge cock deep inside, open access. And Bryce won't even think about getting off until Reese shoots a huge sticky load all over his back. Once he's sure Reese is satisfied he lets himself go and shoots his own load all over that muscular chest of his.