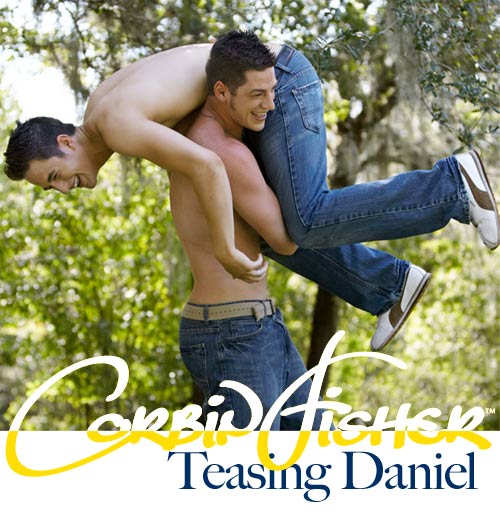 Watch Daniel & Ty at AmateurCollegeSex.com
ACS wrote:
Even without my having mentioned it, anyone could have seen Daniel's first solo video on ACM and realized he's Ty's brother. Not only do they look quite similar, but their voices and mannerisms are, as far as I'm concerned, practically identical! In fact, it's been a source of confusion for me quite a few times! Try talking to either of these guys on the phone and figuring out which one you're actually speaking to! I'm convinced, actually, that they've had fun at my expense at least a couple of times – one pretending to be the other while I'm talking to him on the phone, laughing to themselves while fooling me into thinking I'm talking to his brother.

As much as they have in common, they have at least one stark difference, especially as it relates to CF! While Ty is the sexually adventurous and experienced older brother who has engaged in all manner of wild sexual exploits (much of which we've gotten to film and share here at CF), Ty is a virgin and has yet to actually have full on sex. Certainly, it's not on account of a lack of opportunity. He's a hot guy and has plenty of girls (and guys, probably) after him at any given time. He's just yet to choose to take things that far with anyone and is holding out for awhile.

That difference between them is where the idea for this video came about! Knowing Ty was open and eager sexually and up for all kinds of things, and Daniel was holding out for a bit, I couldn't help but wonder what a Teasing video would be like with them. Just the prospect of having an older brother fuck a girl right there in front of his younger brother

was, on the one hand, incredibly… incredibly… incredibly naughty! I felt guilty for even having thought of it! It's also, though, incredibly hot! It could be a very difficult think to pull off with most pairs of brothers, I'd imagine, but Daniel and Ty are so thoroughly comfortable with and around one another that they actually seemed they'd be the perfect pair to try this out with. If there was ever an opportunity to do this, this was it!

You simply have to see them as this video kicks off. It's a lot of fun seeing their mannerisms as the cameras get rolling and seeing how they interact with one another. There's a bit of nervous tension that's quite apparent and obvious, yet also just a very laid back, fun, and relaxed atmosphere as well. They're incredibly comfortable around one another and that obviously was very necessary here. Imagine being in either of their shoes!

The main question going through my head while filming this was, "Either they're both totally freaked out by what's taking place, or totally turned on by it." It was one of two extremes, as far as I could imagine. However, I think neither actually had to be the case with these two. I think they're so thoroughly comfortable with and around one another that the whole brother factor didn't matter as much to either of them as it did for me while watching and filming it. If either was freaked out, it was because one was getting to fuck a girl silly while another guy was right there on the bed, inches away, jerking off and watching. Being turned on by it likewise was a result of one having sex up close and directly in front of the other while the latter was also naked, providing an audience, and beating off. They're buddies and friends as much as they are brothers, and so those dynamics were just as prominent.

Don't get me wrong, though. The brother factor was clearly at play for both of them as well. If you're Ty, you damn well know you're going to do a good job, put on a hot show, and demonstrate how it's done when your little brother is watching! You're the older sibling! You have to perform and make an impression; show him how it's done and prove you are indeed the stud you've likely bragged about being to your brother in the past! If you're Daniel, you can't help but be a bit envious while seeing your older brother in action, studying it all to learn some tricks, looking comfortable, at ease, and into it enough to make it clear you could do just as well if the tables were turned, and hold your own (pardon the pun!).

So, who's the first one to blow their load? What are the finite details of how things play out? You'll have to watch the video to find all that out. You'll also have to be sure to see Part 2 of this video – the outtakes shot during filming and the post-sex shower included. It reveals so much more about how well these two get along, how much they have in common, and what this experience was like for them!