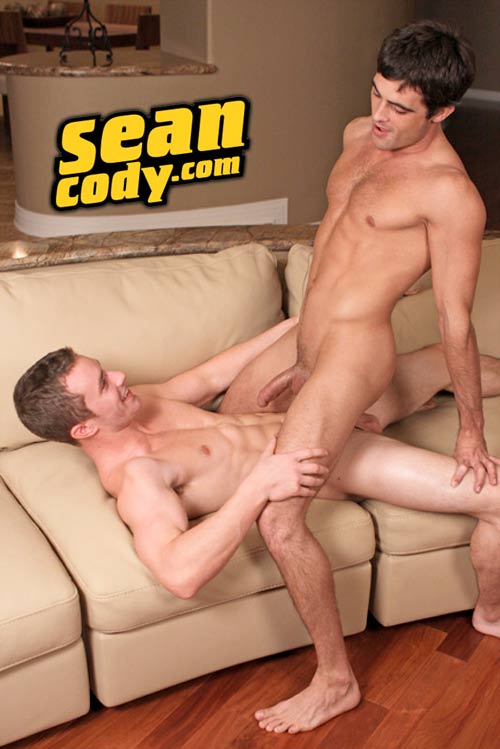 Watch Lance & Ethan at SeanCody.com
SeanCody wrote:
I don't think that most people break in a new couch with two guys fucking on it. I also don't think that most people have their ass broken in with a near 10-inch dick! Well, Lance noticed a trend here. For some reason I didn't realize that he has been on the receiving end of some of our more endowed guys — Jess and Jonathan. I guess he's just lucky?

"When I work with you guys, you guys put 'ginormous' things in my ass… so maybe that's my skill?" he joked after hearing the rumor that Ethan was like a "tripod".

"We put ginormous things in your ass? Or you… you feel we encourage it?"

"Yeah.. .well HE puts ginormous things…" he laughed as he pointed to Ethan.

Ethan sat there with a huge grin on his face, looking at Lance like had no idea what he was in for. To break the anticipation up a bit, they played a game of bean-bag toss. Frankly, the stakes didn't matter. Ethan knew that he was going to be fucking Lance. I think Lance really got into the challenge of sucking such a big dick, prepping it before getting fucked by it.

Seeing Ethan's dick open Lance up was a sight to see. There had to have been spots inside of Lance that hadn't ever been touched by a dick so big! The moans, grunts and the punching of the furniture said it all. At one point his legs even started shaking. But he took it. And took it all until he shot his load over his head as Ethan fucked him. I guess he was right about his particular skill set after all!