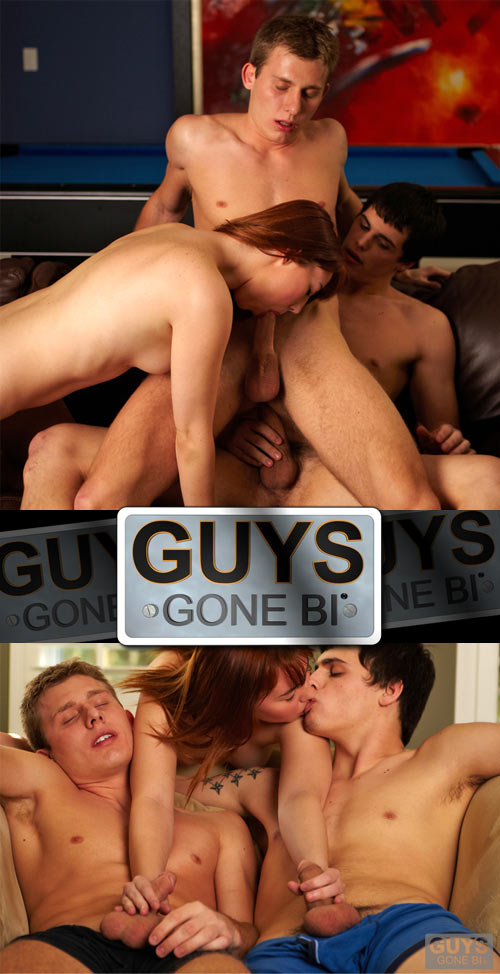 Watch Philip, Kenny & Delila at GuysGoneBi.com
GuysGoneBi wrote:
Delila definitely has a dominant streak – and when she, Philip and Kenny get together, she has no problem telling exactly what she wants them to do!

After joking around, Delila, Philip and Kenny can't wait to get each other naked and play around. Philip kisses Kenny, and Delila unbuttons Kenny's shirt. Kenny sucks Philip's cock as Delila sucks his.

Delila tells Philip to blow Kenny. He sucks Kenny's cock, but then Delila wants back in there! She goes down on Kenny's dick, and makes Philip back off. She rides Kenny as Philip stuffs Kenny's mouth with his cock. Delila loves how Kenny dicks her, but she says it's Philip's turn now.

Philip slides his cock into her mouth. She sucks him as Kenny continues to drill her. Delila moves into a 69 position with Kenny, and Philip fucks her from behind. Philip spanks her ass as he fucks her. Kenny gets a hot, close-up view of Philip's cock slamming into her tight pussy.

"Fuck it fast!" he tells Philip. Kenny is completely turned on, watching Philip fuck Delila furiously … and by the intense blow job she's giving him. As Philip fucks her, Delila's tits rub up and down against Kenny's lean-muscled chest, exciting him even more.

Delila wants to see Philip fuck Kenny next. Kenny rides Philip's hot cock in a reverse-cowboy position. Philip tells her this was a great idea. "I'm just full of them!" she laughs.

Right now, Kenny is full of Philip's dick! Delila plays with her tits as she watches Philip slam upwards into Kenny's hole. Kenny's cock bounces up and down as Philip pounds him.

Getting Kenny into a missionary position, Philip shoves his dick inside him again. He jerks Kenny's cock as he fucks him. Kenny blasts out a powerful load, that ends up all over his abs.

Watching that gets Philip close to coming. He rams Kenny even faster. Kenny tells him to come inside him. Philip shoots his load inside Kenny's hole.

Delila jokes that they forgot about her, but she definitely enjoyed the hot show!
Watch Philip, Kenny & Delila at GuysGoneBi.com