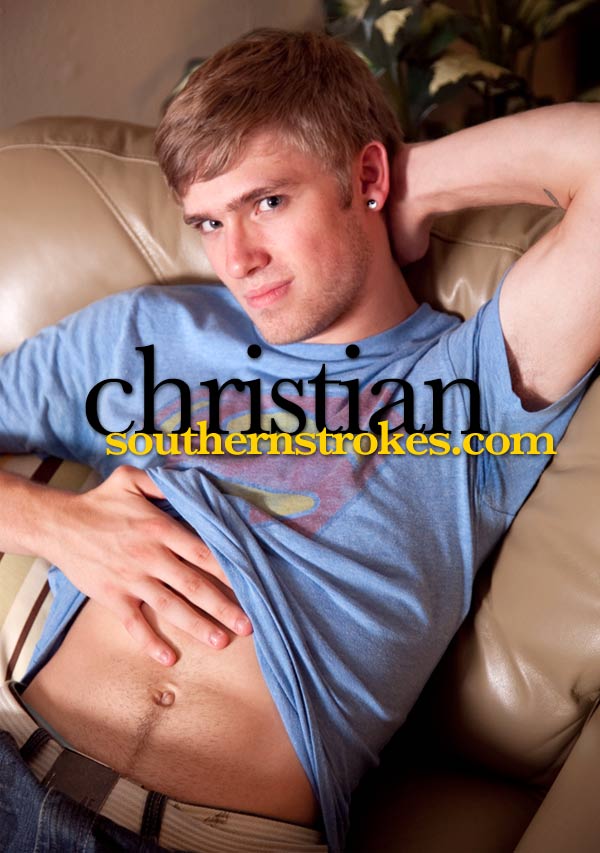 Watch Christian Raynes' Video Clip | Visit SouthernStrokes.com
Southern Strokes wrote:
Christian Raynes is the latest of a never ending trail of Bi and Gay guys that find their way out of their small Southern town into the ATL. Christian is a really cute 20 year old with dirty blonde hair, green eyes and a hot fit body. Christian is a bi-boy from a small town in Tennessee. I know he said he was Bi but Christian let us know that he prefers having sex with other guys.

Christian has this rugged country boy look to him but he is comfortable with being himself. When he takes off his shirt, your eyes will be fixated on his beautiful big nipples. Once you manage to move on from his nips, feast your eyes on his six-pack. You don't expect this boy to be as fit as he is but he is all country and he loves to get nasty.

Christian was sharing some of his sex capades when we started talking about how homophobic his small town was. You don't really find that much in the South at all. In fact, it seems as though most country boys are willing to try just about anything if it feels good. Christian didn't have to go far to get his rocks off though, he had a fuck buddy in the next town over.

Christian took off his shirt and started to play with his cock through is jeans. He took off his jeans and underwear revealing his 7 inch uncut cock. Christian then spread his legs apart so that we could get a close look at his hair hole. This southern boy is covered with thick blonde hair in all the right places. He also unleashes a gush of creamy hot cum.
Watch Christian Raynes' Video Clip | Visit SouthernStrokes.com