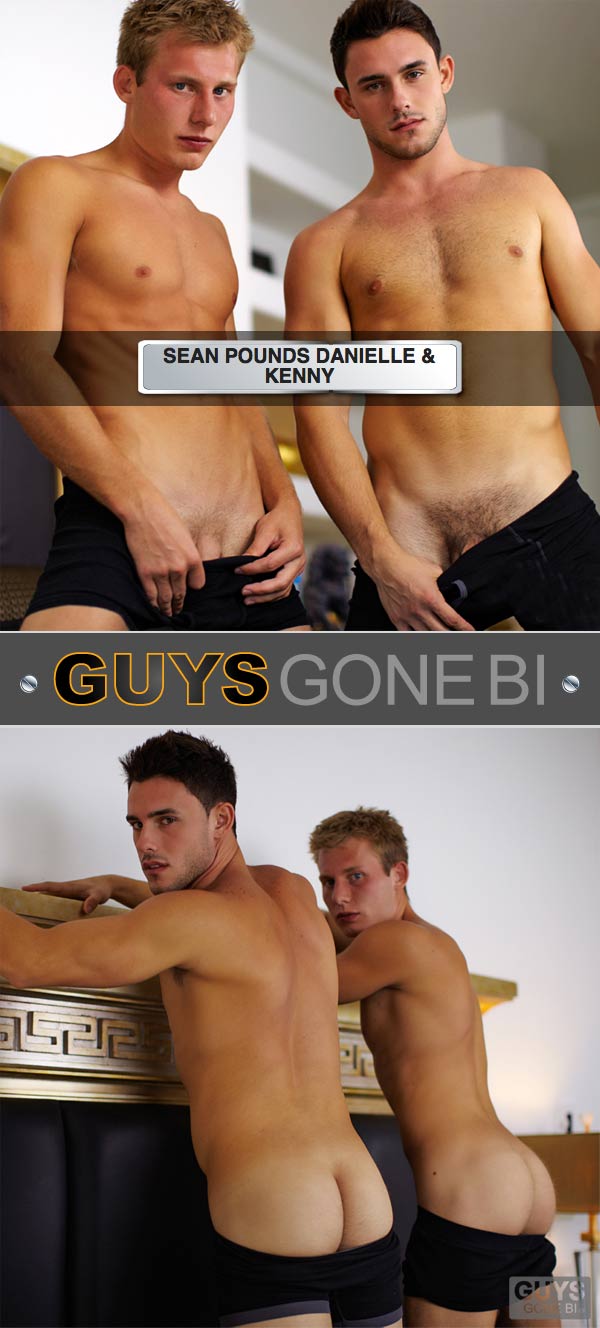 Watch Sean Pounds Danielle & Kenny at GuysGoneBi
Sean has a voracious sexual appetite under any circumstances. But when he gets to nail a hot girl like Danielle and a sexy guy like Kenny at the same time – he's going to make the most of it – and so are they!
Sean says he's looking forward to fucking them both equally, that he's not more excited for one or the other. He kisses both Danielle and Kenny passionately as they get their clothes off. Looks like he was telling the truth!
oth guys kiss Danielle's tits and stomach. Sean kisses Kenny the same way, not about to let him feel left out! Sean lies on Kenny, driving him wild as he kisses his way down Kenny's torso.
Sean goes down on Kenny's dick, while Danielle strokes Sean's cock inside his briefs. Sean sucks on Kenny's nuts before going back up and down on his shaft.
Kenny slaps Sean's tongue with his cock. Danielle jerks Sean's dick. Sean feeds Kenny his cock as Danielle swallows Kenny's dick.
Sean pushes Danielle's head even farther down Kenny's shaft. Kenny's ready to fuck Danielle. He drills her from behind as Sean kisses him all over.
Danielle moans with pleasure as Kenny fucks her. Sean fingers Kenny's ass, spitting on it and getting it ready for his cock. Kenny fucks Danielle until Sean says he's ready for his turn.
Kenny stuffs his cock in Danielle's mouth as Sean pounds her. The guys kiss again. Danielle whimpers as she gets dicked from both ends! Kenny stands up so Sean can suck his cock.
Sucking Kenny's cock gets Sean horned up to fuck Kenny! Kenny crabwalks onto Sean's dick. He slides all the way down. Sean slams his dick deep into Kenny's ass.
Danielle jerks Kenny's dick as he gets fucked. Kenny lies down to take Sean's cock from the side. Sean and Danielle kiss. Kenny slaps his cock against Sean's thigh.
Sean pounds Kenny harder. Kenny yells out as he shoots his load all the way up his abs and arm! Danielle asks Sean if he's going to come. Sean keeps fucking Kenny, then pulls out to spray his load on top of Kenny!