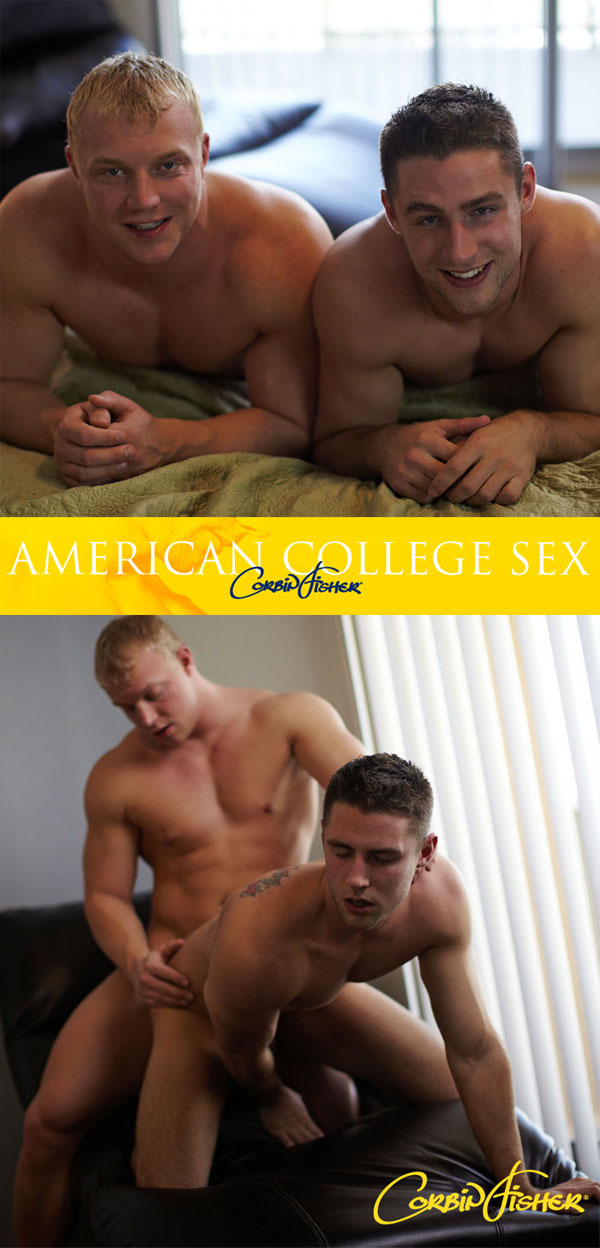 Watch Steve, Harper & Ashley at AmateurCollegeSex.com
No sooner has hot and eager freshman Harper, gotten topped by Connor, he's ready to get nailed by another big muscle guy. This time, it's Steve!
Harper also mentioned to Connor he was curious about Ashley's dominatrix skills. While she doesn't tie him up in this video, he definitely gets a taste of what it's like to be under Ashley's command!
Steve and Ashley quickly get Harper's clothes off, kissing and licking him all over. Steve sucks Harper's dick, while Ashley plays with Steve's cock. Steve feeds Harper his dick while Ashley takes her turn sucking Harper.
Ashley then jumps on Harper's cock! She slides down, letting Harper fill her pussy with his dick. Ashley sucks Steve as she rides Harper. She tells Steve to stick his dick in Harper's mouth and then to suck his balls. Harper thrusts up inside Ashley. Then she moves onto all fours so Steve can eat her out while she blows Harper. Steve shoves his dick into her after getting her ready with his tongue. Steve pounds Ashley while her mouth is on Harper's cock.
Steve sucks Harper's dick, going down on him while still fucking Ashley. Harper kneels down to suck Steve, tasting Ashley on his cock. Harper strokes his big dick, making Steve want to see him fuck Ashley again.
Ashley rides Harper in a reverse-cowgirl. She blows Steve as she bounces up and down on Harper. Ashley crabwalks over Harper so Steve can play with her pussy, before he puts Harper's dick back in his mouth.
Harper drills up into Ashley. Steve sucks his dick and licks Ashley again, then plays with her tits. Steve shoves his cock back into her as Harper sucks her toes. Steve pounds away, and then he's ready to fuck Harper.
Steve fingers Harper while Ashley sucks him, prepping Harper to get fucked. Steve slides his cock deep into Harper's hole. Steve pounds Harper as he kisses Ashley. Ashley jerks Harper's dick as he gets nailed.
Harper lies on his back. Steve slams his cock back into Harper's ass. Ashley sits on Harper's face and strokes his dick. Steve fucks a huge load out of Harper!Watch Steve, Harper & Ashley at AmateurCollegeSex.com