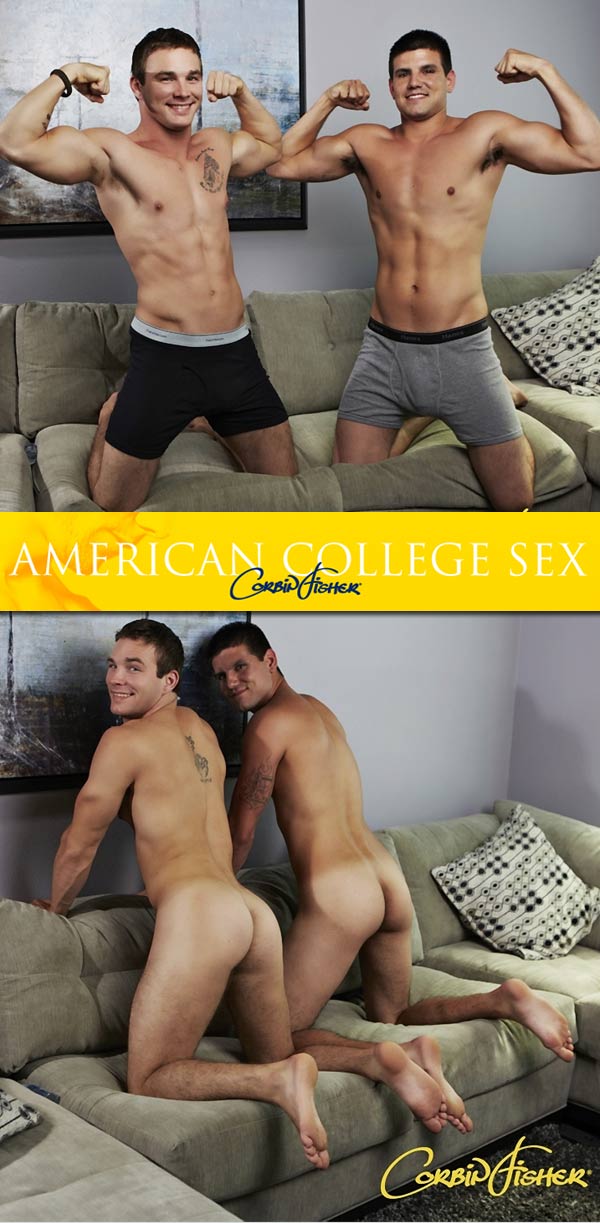 Watch Nolan, Landon & Tiffany at AmericanCollegeSex
New freshman Nolan gets into his first bi tag team with Landon and Tiffany. The guys kiss Tiffany and get her blouse and bra off. Nolan and Landon suck on Tiffany's tits and get rid of their shirts.
Landon kisses his way down to Tiffany's panties and eats her out. Nolan kisses her as she rubs his cock. She pulls his hard dick out and takes it into her mouth. She sucks Nolan's cock and he slides across her lips.
Tiffany sucks Landon's nuts and then his cock. Landon drills his tongue deep into Tiffany's pussy. Nolan pushes his dick down Tiffany's throat. She flips over so Nolan and Landon can spitroast her.
Nolan fucks Tiffany from behind. Tiffany sucks Landon's cock. Nolan pulls out and teases Tiffany with his dick before slamming it back into her. She moans and whimpers loudly, her mouth stuffed with Landon's cock.
Landon lies down and Tiffany straddles him, riding his dick in a reverse-cowgirl. She bounces up and down on his cock, sucking on Nolan's dick. Landon pounds her from below as she takes Nolan's cock in her mouth.
Nolan kisses Landon, and he rolls over so Landon can suck his cock as Tiffany sucks his. Landon sucks Nolan's dick until Nolan is ready to fuck him. Landon gets on all fours and Nolan fucks him doggy-style. Tiffany kisses Landon as he gets fucked, then helps Nolan push his cock into Landon's ass even further.
Tiffany kisses Nolan. Landon flips onto his back and Tiffany straddles his face while Nolan fucks him in the missionary position. Nolan fucks a thick load out of Landon, who yells as he's cumming. Cum splatters onto Landon's abs.
Nolan keeps fucking Landon, until he pulls out and blasts a huge load onto Landon. Tiffany licks cum off Landon's cock and all three kiss. Landon asks Nolan what he thinks of fucking a guy and Nolan says it's almost better than fucking a girl.
I have to agree!
Watch Nolan, Landon & Tiffany at AmericanCollegeSex