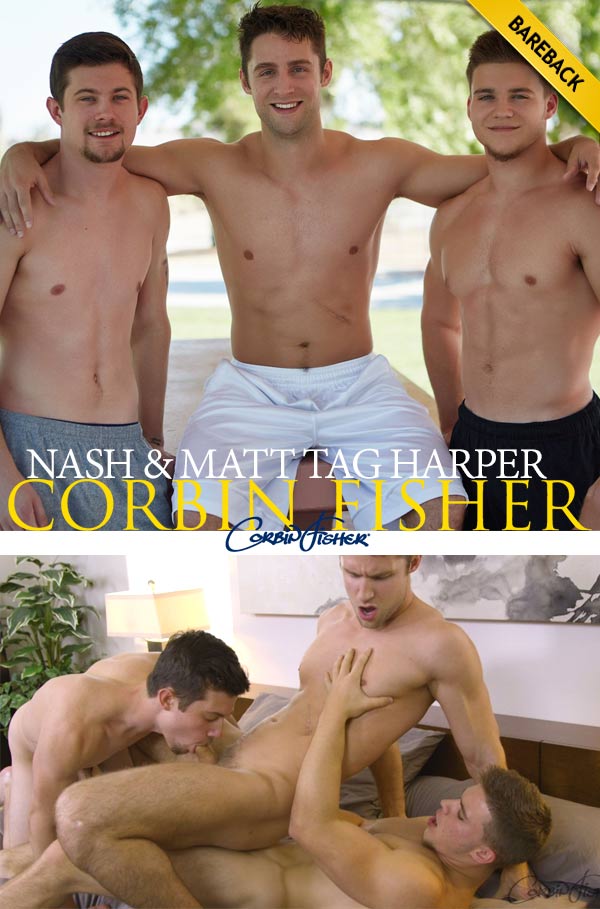 Nash, Matt & Harper at CorbinFisher, Scene Summary:
Whether he's topping or bottoming, Harper is aggressive and can handle whatever kinky fantasy we throw at him. Well today we're throwing two big, hard dicks for him to suck and take up his ass.
Nash and Matt (a.k.a. Mason Williams) don't hold back either. They take turns using his mouth and ass, splitting him open and pressing down on him relentless until he blows – but it's not just Harper that's put to work. Nash gets on his knees and bounces back and forth from Matt and Harper's dicks, filling his mouth over and over again. Then it's their turn to eat his cock, each going as deep as they can go – which is no easy feat on Nash's big rod of man meat!
Matt gets behind Harper to tongue him. Harper works on Nash. Then it's time for a spit roast as Matt and Nash take advantage of every hold on Harper. Harper rides, gets flipped around, shared, gets treated (and mistreated!) Does Harper love it? I'd say the way he grunts, moans, yells, out and begs for more till he blows his wad signals a resounding – Yes!
Watch Nash, Matt & Harper at CorbinFisher