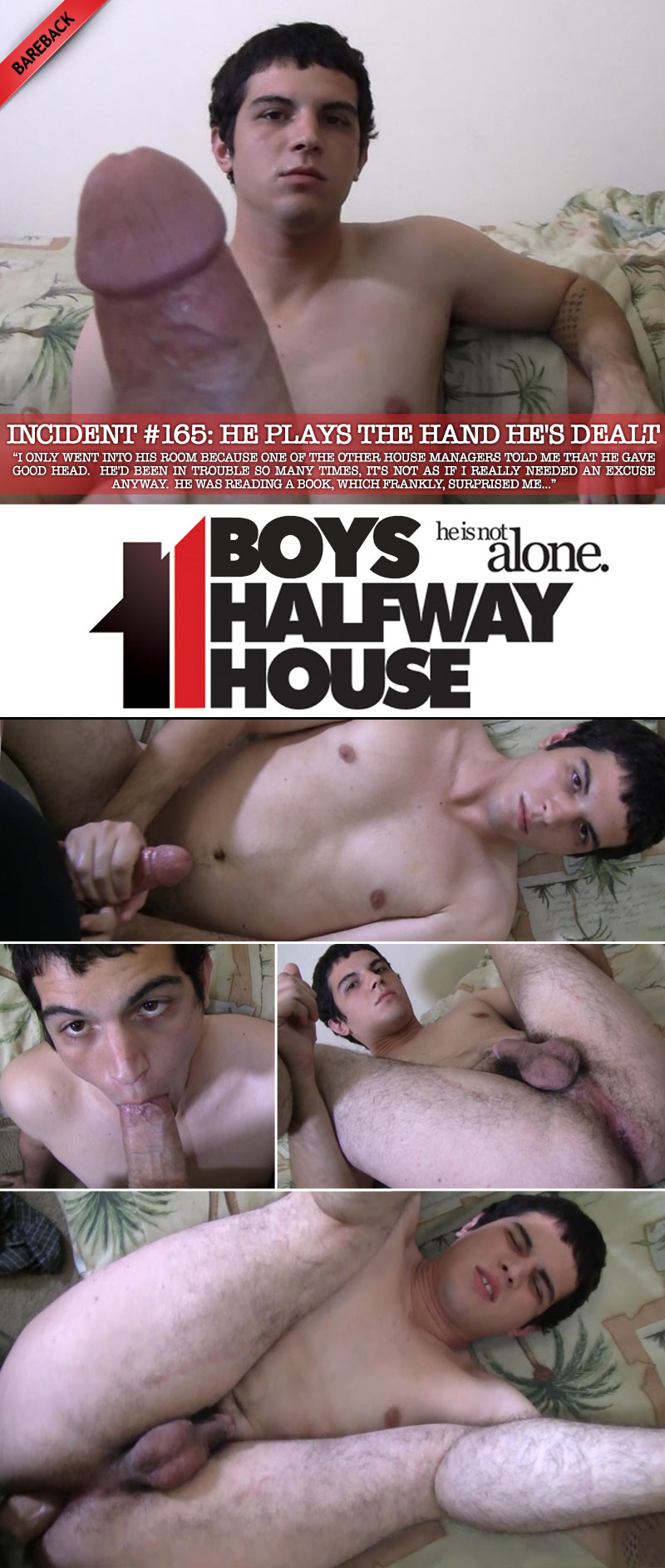 I only went into his room because one of the other House Managers told me that he gave good head. He'd been in trouble so many times, it's not as if I really needed an excuse anyway. He was reading a book, which frankly, surprised me. Good for him. All kinds of good habits can be acquired at the House, as well as certain useful skills.
At any rate, I started rubbing on him, he didn't bother flinching or acting like he was upset about being molested like that. When I pulled out my dick, he grabbed it diligently. And when I finally gave him a light push down on his knees, he took my cock in his hand, and then smoothly worked it over with his mouth. The guy's god nice lips and a great tongue, so my buddy wasn't lying when he described how silky his blowjobs are. I could have just busted a nut down his throat and gone about the rest of my day. However, being in the room alone with him, and with him already half undressed, I figured that I might as well fuck him.
I told him to remove his shorts, and it's at that point that he realized this wasn't ending with his mouth full of sperm. Now, in addition to describing his great cocksucking, the other Manager told me he wasn't that easy to fuck. Maybe it's because he is straight and was a virgin at the time? Maybe he's just extra tight? Who knows, but I like a challenge, so I stepped up and did it. With his legs in the air, I took care to put extra lube on my dick. It was tight as first, but it didn't stay tight for long. It only took a minute or two before I had his limber legs crossed and I was slam-fucking his little twenty year old butthole. Damn, it felt good! In fact, the longer I fucked him the more I sensed that he might be liking it. Or at least not hating it. I stopped for a second and gave his willy a tug. He popped a boner instantly! So of course I stuck my dick back in him. I jerked him off as I thrusted, and then when I got close, I told him to try and cum. With a minute his ass tensed up around my dick, and he shot an impressive load. Go figure. Knowing this guy and his predilections, I don't think he's anything but straight. However, he has definitely learned to play the hand he's dealt. And he's been dealt the role of a cock slurping cum dump. At least for now.
Watch Incident #165 at BoysHalwayHouse