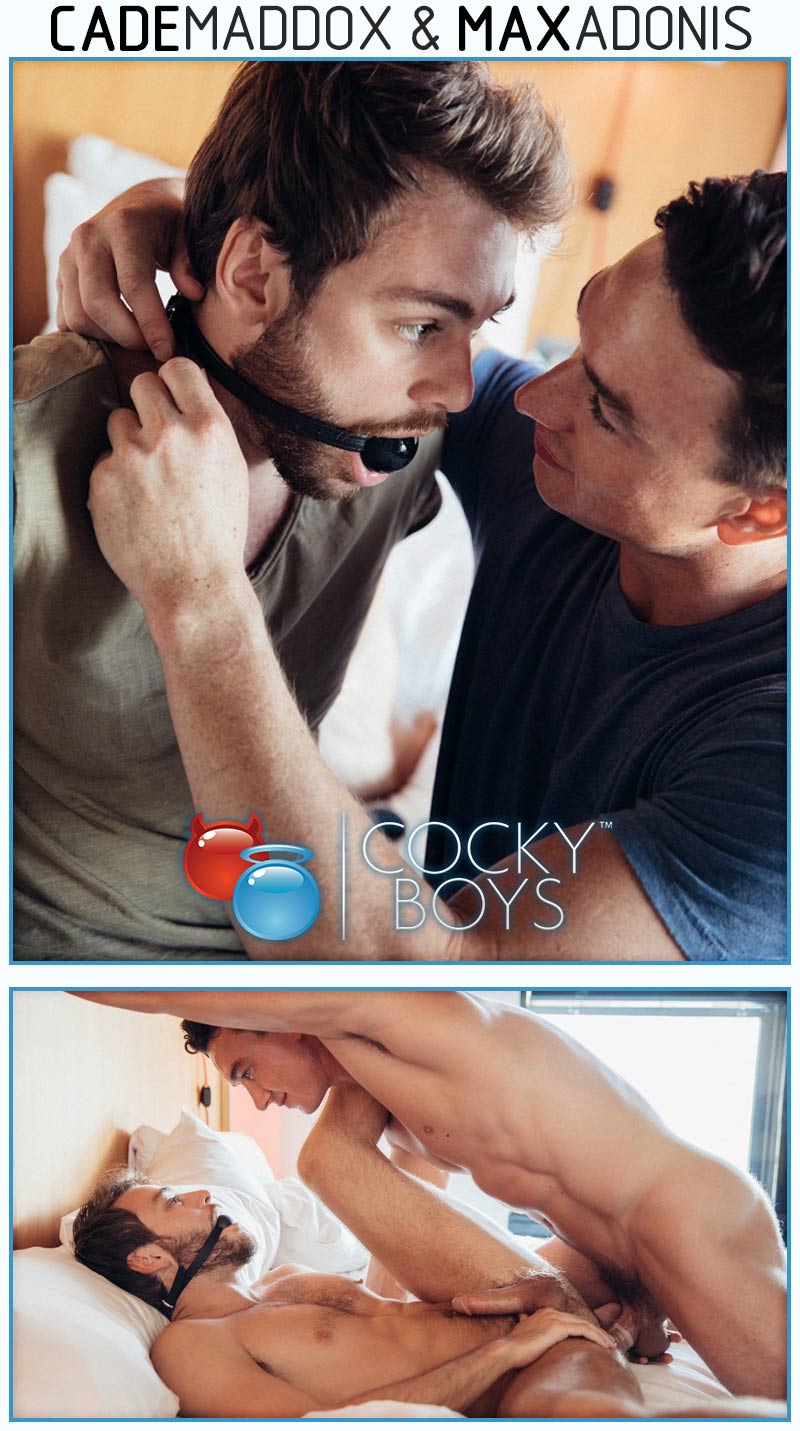 Cade Maddox Fucks Max Adonis at CockyBoys, Scene Summary:
A romantic getaway for Cade Maddox & Max Adonis is spiced up with a little bondage play! It's Max's idea but a slightly hesitant Cade comes around once he sees the ball gag. Even with the gag on the sensual affection continues. Albeit with a self-imposed challenge. Cocksucking deprivation is a little frustrating for Max with Cade's huge cock looking so tempting. The upside is that Max's cock gets the attention from Cade's mouth and strong hands. With his precum streaming he's ready to cum, BUT Cade edges him just a bit longer.
When Cade Maddox strokes their cocks together and brings his hardon up to his face, Max Adonis just HAS to take off the gag. He takes all of Cade's thick cock into his mouth & throat and he's a simply insatiable as Cade face fucks him balls deep on the edge of the bed and 69's his cock. Max is in cock whore heaven BUT after a little taste of dominance Cade wants more. He puts the ball gag back on Max, flips him over to rim his twitching hole and teases him with a butt plug before making him take it all. With Max on all fours Cade uses the toy and his mouth to dominate his hole and tease his cock mercilessly as a now gag-free Max begs for cock.
Cade Maddox relents and fucks Max Adonis deep and hard almost non-stop. He moves from pounding from behind to thrusting into Max from the side and puts the ball gag back on to remind him who's in charge. Still Max remains as vocal as possible as he's fucked and driven to the edge while Cade drills him on his back.
Conclusion:
Finally Max Adonis begs for Cade Maddox's load. After a muffled "please" passes his lips, Cade gives him a mouthful of cum. Seconds later Max pumps out a thick fountain of cum, milking out every drop…and it does not go to waste. Cade hand feeds some of it then sucks up more to feed Max with a cum-loaded kiss.
Watch as Cade Maddox Fucks Max Adonis at CockyBoys