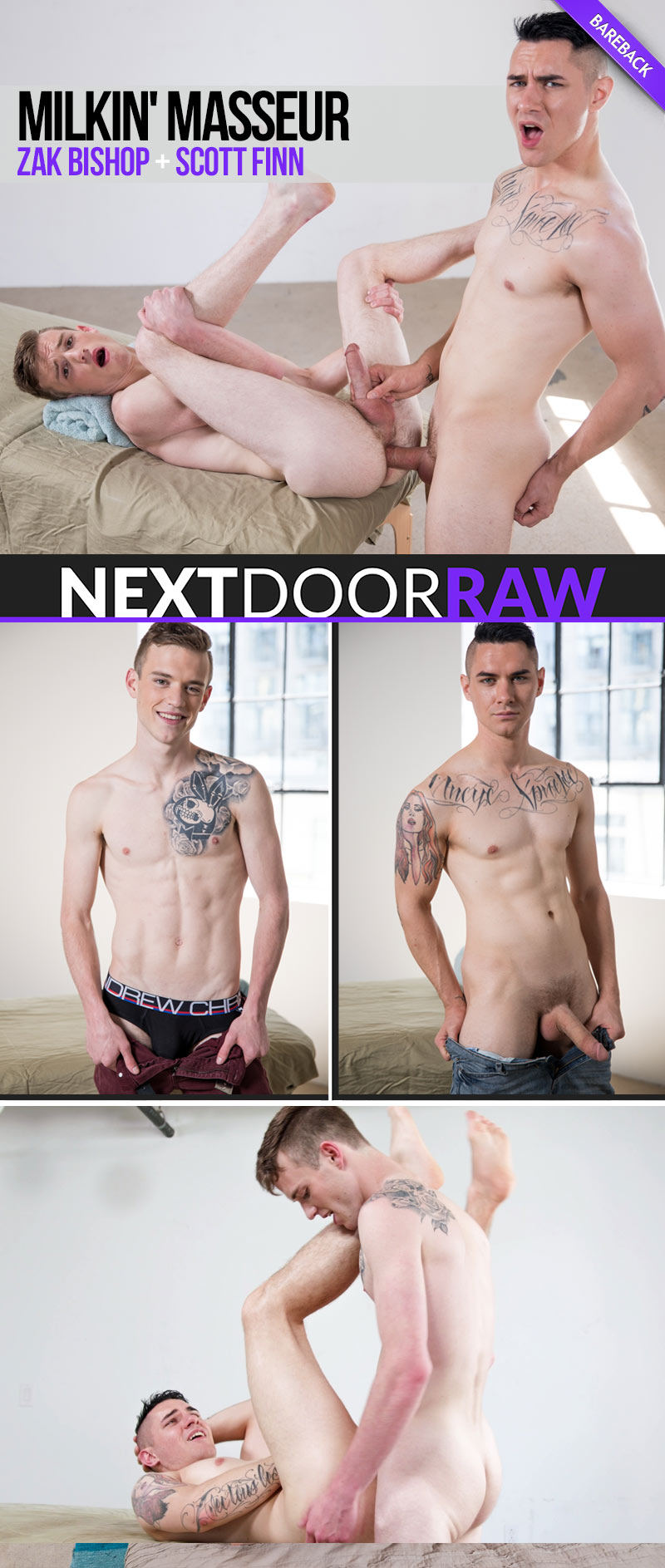 Zak Bishop and Scott Finn Flip-Fuck in 'Milkin' Masseur' at NextDoorSTUDIOS:
Naked and stretched out on the massage table, Zak Bishop has Scott Finn right where he wants him. With Scott laid out, Zak has free reign to do whatever he wants to the perfect body in front of him.
Zak Bishop begins to run his hands up and down Scott Finn's body, both guys begin to get super horny. Reaching through Scott's legs, Zak fingers Scott's hole before slowly milking his cock as it hangs down. Scott's dick is rock hard as Zak plays with hit, before sinking his face into Scott's ass and tongue fucking his hole. Scott can resist no longer, so Zak flips him around and bends him over. He then plunges his raw cock deep into Scott. Zak Bishop pounds Scott Finn from behind and makes Scott moan with pleasure.
Not wanting to deprive Zak Bishop, Scott Finn lets him have his fill before they switch places. Now Scott slides his half-milked cock into Zak. Zak proves to be even more adept at receiving than he is at giving, and he takes Scott's dick to the base as Scott pounds the cum out of him.
Zak Bishop rides Scott Finn's cock until he's ready to spit, launching his load all over Scott's chest just as Scott pulls out and blasts Zak's freshly fucked hole, coating him in cum as the two of them fall exhausted onto each other in a fit of sweaty, sticky laughter. Enjoy!
Watch as Zak Bishop and Scott Finn Flip-Fuck at Next Door Studios
Watch as Zak Bishop and Scott Finn Flip-Fuck at Next Door Studios