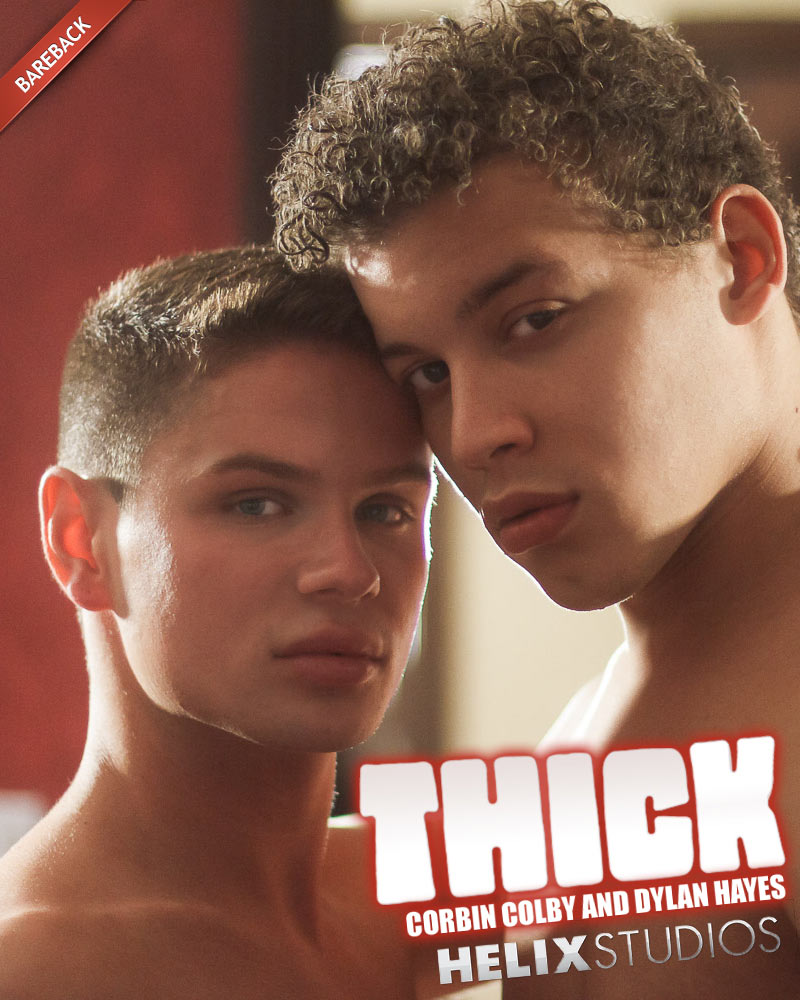 Corbin Colby Fucks Dylan Hayes in 'Thick' at Helix Studios:
This sizzler is a celebration of big, thick girthy groins and beautiful bubble butts. Corbin Colby and Dylan Hayes are BOTH gifted in these departments and watching these two stars collide with their heavenly bodies is a sex soaked, celestial experience.
Hunky hot jock, Corbin Colby wraps cock connoisseur Dylan Hayes up into his erotic orbit with strong arms and sultry kisses. Their cocks rise towards the heavens. Meanwhile clothes drop to the floor along with Colby who's anxious to eat every inch of Dylan's delicious dick.
Corbin Colby can't help but jack his raging hard hog while getting a face full of fuck. Next, Dylan Hayes drops down to return the fellatio favor and Colby's cock has already stretched to powerful proportions. He does his damnedest to deep throat every fat fucking inch, gagging and licking the long love stick along the way while working Colby's cum filled balls.
Dylan Hayes stands and the couple share a cock flavored kiss as Corbin caresses Hayes' hot hind end, igniting his hunger for ass. He spreads the big, smooth, round rump open and dives in tongue first, lapping at the lads loins like a love sick porn puppy. Our dirty dog smacks the young stud's ass cheek then, stands up and bangs his big bone balls deep into Dylan's dick hungry hole.
Heated Dylan Hayes looks back at Corbin Colby doing what he does best. Then, he spreads his smooth cheeks wide open so Colby can cock he kid's caboose even deeper. Colby bangs bone at full speed as our cock cam captures his magnificent muscle bubble flexing and bouncing as it rams raw dick into bottom boy's sweet center.
Cumclusion:
The stud slinger lays back on the bed like a boss and offers Dylan Hayes a ride on his rager. Hayes hops on the porn pogo stick and puts in some serious work before hopping off so his hunk can do the hammering. Corbin Colby annihilates his hole like the porn king he is. Pumping out every ounce of orgasmic ooze from Dylan's dick onto his sexy, smooth, blemish free skin.
The sight of the gorgeously gooey treat causes Corbin's cock to explode; and, he blasts his boy with a bodacious boner bust, emptying his ample orgasm all over Hayes' hot, tight, tan body. His schlong sprays seed all the way up to Dylan's naughty nips and down to his hot hole which Colby caresses with his cum drippy cock.
Watch as Corbin Colby Fucks Dylan Hayes at Helix Studios