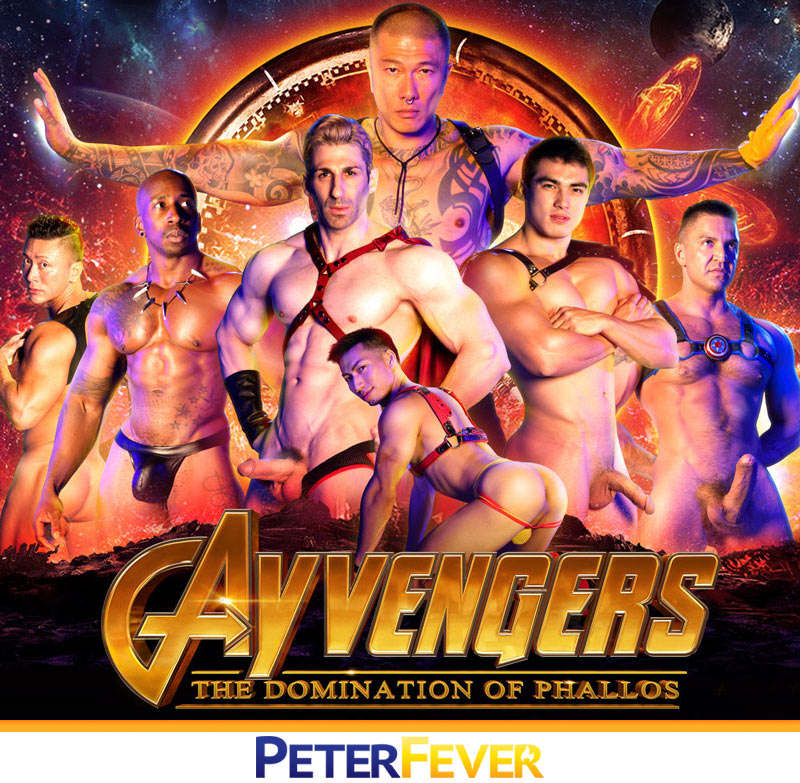 Gayvengers Series Synopsis:
Here's a seXXXy superhero blockbuster that will blow your mind and stir up your nether regions! Our story begins when the evil alien genius Phallos (Damian X. Dragon) and his ruthless minion (Shen Powers) deliver an apocalyptic message of death and domination from their spaceship hovering over Earth. That message reaches the eyes and ears of the Gayvengers, a hardy band of superheroes that are the universe's last best hope against annihilation.
Our heroes (Axel Kane, David Ace, Dominic Pacifico, Max Konnor and Sir Jet) use their wits and ever-ready sexual prowess to save the day. Rescuing a universe in danger is hard work, but these superstuds never lose their sense of humor — or their hot carnal desires for each other! Don't miss this fun and spectacular epic that parodies your favorite recent big-screen superhero adventure!
Max Konnor Fucks David Ace in 'GAYVENGERS, Arrival' at PeterFever:
From a spacecraft hovering above Earth, the diabolical alien Phallos lays out his demand for all of the planet's citizens to bow before him in subjugation. Watching on a holographic scene, Gayvenger superheroes Thor, Tony Spark and King T'Balla (Sir Jet, David Ace and Max Konnor) try to formulate a reasonable plan to combat the mortal menace, but the hotheaded God of Thunder rushes out in a fury to combat Phallos with his invincible hammer. Alone at the conference table, Tony and T'Balla get down to some extracurricular seXXXy time.
Tony kneels to swallow the dusky T'Balla's massive member, struggles to fit it down his super throat. As he glances up at the handsome ebony stud, it's clear he has more in mind than a blowjob. Retiring to a nearby couch at Gayvengers headquarters, Tony sticks out his eager ass for a rimming, and T'Balla is just the superhuman to eat it right. Clad in their jocks and harnesses, there is nothing to impede their heroic sexual appetites. Tony hops on and rides the huge black pole with determination; he's not an eccentric billionaire that takes no for an answer. T'Balla's Wakanda-trained sexual technique propels him into Tony's hungry hole to just the right spot, and Tony screams out his approval.
Bodies throbbing and knitting together in perfect opposition, Spark and T'Balla work up to a mighty climax. T'Balla picks up the smaller Tony and impales him on the juicy cock as they kiss and clutch each other's muscular bodies. With a battle cry of Wakanda forever! the dark muscleman spurts out shot after shot across Tony's hot ass. Lean, harnessed Tony splatters his belly in much-needed relief.
Watch Max Konnor Fucks David Ace at PeterFever