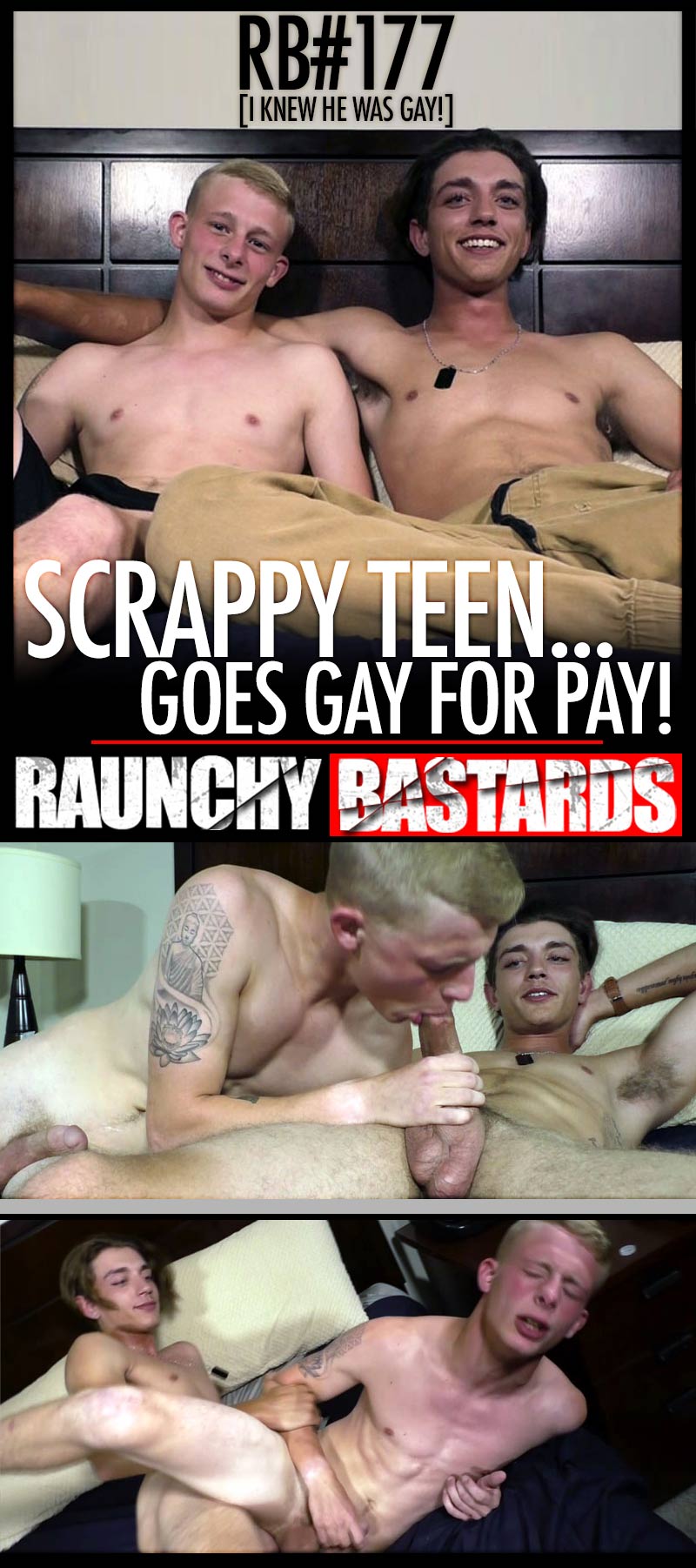 Scrappy Teen Goes Gay For Pay! with Alex Arbor and Jonas Paige at Raunchy Bastards:
Alex Arbor never ceases to amaze me. I had him down one weekend when Jonas Paige (a.k.a. Jonas Drift) was down, and it was not only quite fun, but I was fortunate to witness Alex's progression some more. After swapping some blow jobs, Alex goes all the way with Jonas's cock in his ass!
Now, I always think of the adjective "scrappy" when I think of Alex Arbor. He's always doing something physical, strenuous, or dirty. When we were at the beach he was climbing palm trees and wrestling around in the sand. It shows, too, because he has scrapes and scars of every sort. But it's exactly this physicality and rambunctiousness that makes him so good at sex. He doesn't mind getting scrappy on the sheets, if you know what I mean. Not only that, he'll take a bit of pain smiling all the while. It did, however, take a lot of convincing for this wonderful show. Alex has an open mind, but we were definitely stretching the limits, here.
Just to make him extra comfortable (and able to take Jonas Paige), after a warm up with their cocksucking skills, something Alex Arbor is still practicing, Jonas loosens up Alex's hole with his tongue. One thing is for sure, Alex loves getting his ass eaten out. That's always a plus! But his hole needed to be able to take more than a tongue, so he loosens up with a big dildo prior to Jonas sticking it in. That was probably a good idea, because Jonas's idea of ass fucking is basically shove it in and go as hard and fast as possible. It's definitely one strategy. At any rate, the moans and expressions on Alex's face are priceless, and I'm sure you are all gonna get off to this video over and over.
The ending is fairly epic, too. Alex Arbor, being so limber, flips upside down and cums into his own mouth. Although to some of you this might not sound like much, we sprang this on him last minute and he wasn't too keen on the idea, but he went along anyway. Then, with his mouth, chin and chest covered in cum, Jonas Paige dumps a load onto his hole. The site of this pretty boy lying there in all that cum is definitely the way it. If only more straight teens were as fun as him! Enjoy.
Watch Alex Arbor and Jonas Paige at RaunchyBastards