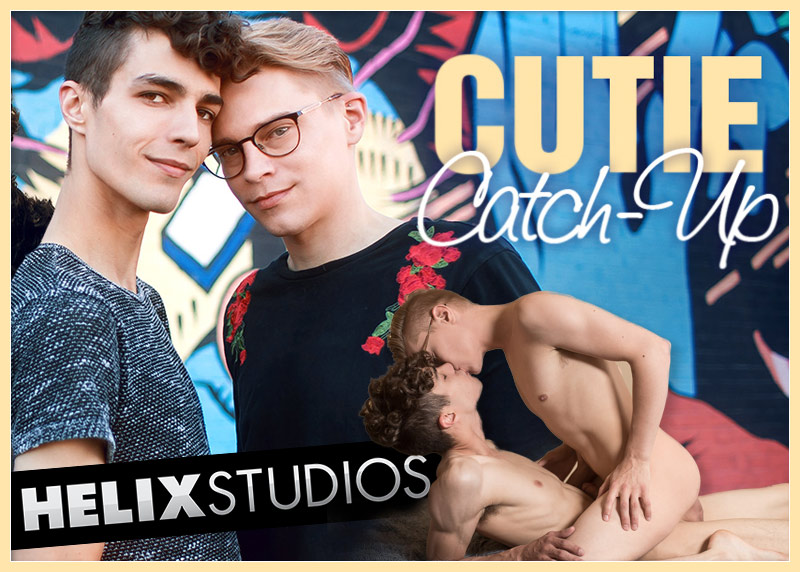 Harley Xavier and Jacob Acosta in 'Cutie Catch-Up' at Helix Studios:
Long lost high school hotties, Harley Xavier and Jacob Acosta [JustFor.Fans] run into each other after graduation and pick right up where they left off.
Lusty latin, Jacob Acosta isn't ready to let this reunion end; so, he invites the blond boy over to his place where the pretty pair REALLY reconnect! After years of pent up sexual frustration, the horny boys go wild. As kisses smack, clothes fall to the floor right before knees, when the gifted guys gorge on one another's meaty manhood. Jacob somehow manages to swallow every inch of Harley Xavier's heat; but, try as he might Xavier has a tougher time.
In all fairness, the boy DOES have his work cut out for him. Jacob Acosta's cock is MASSIVE! But, he sure does have fun trying! He goes between sword swallowing, and mouthing the boy's big, bust filled balls before our latin lover maneuvers him onto the bed to finish deep throating his delicious dong.
The Sexual Dynamo Eats Some More Schlong:
Jacob Acosta eats ass just as well as he sucks cock, and even ups the ante with a few fingers. Slick with spit and horny as hell, Harley Xavier takes a seat on Jacob's giant, really making up for what he couldn't swallow with his mouth. The chemistry is crazy, as Harley's hard-on sways in Acosta's mug.
Never one to let an opportunity go to waste, the sexual dynamo eats some more schlong, while Harley Xavier takes turns fucking face, and getting stuffed. Jacob Acosta teases his own hole with that big bone in his mouth; and, soon enough, the dark haired dick slinger becomes a bottom!
Harley Xavier heaves his huge hog into the twink's tight hole and gets right to hammering. He can't resist jacking Jacob Acosta's jock in the porntastic process, which is all right by us! After choking the boy's chicken, he moves up to that throat, and really puts a pounding down.
In an epic moment, Jacob Acosta gets on all fours, and Harley Xavier heats up that hole with his tongue while pulling that big rig through his legs before getting back to the bang! The pretty pair trade spots once more, and Harley's hole receives another workout from Acosta's anaconda.
Cumclusion:
Jacob Acosta can't hold his jizz, and spits his spunk RIGHT in Harley Xavier's hole, but keeps right on fucking till blondie busts. His nut explodes, creating incredible arches in the air, before bad boy Acosta swoops in to clean him all up…….with his hungry tongue.
Watch as Harley Xavier and Jacob Acosta at HelixStudios
Watch as Harley Xavier and Jacob Acosta at HelixStudios