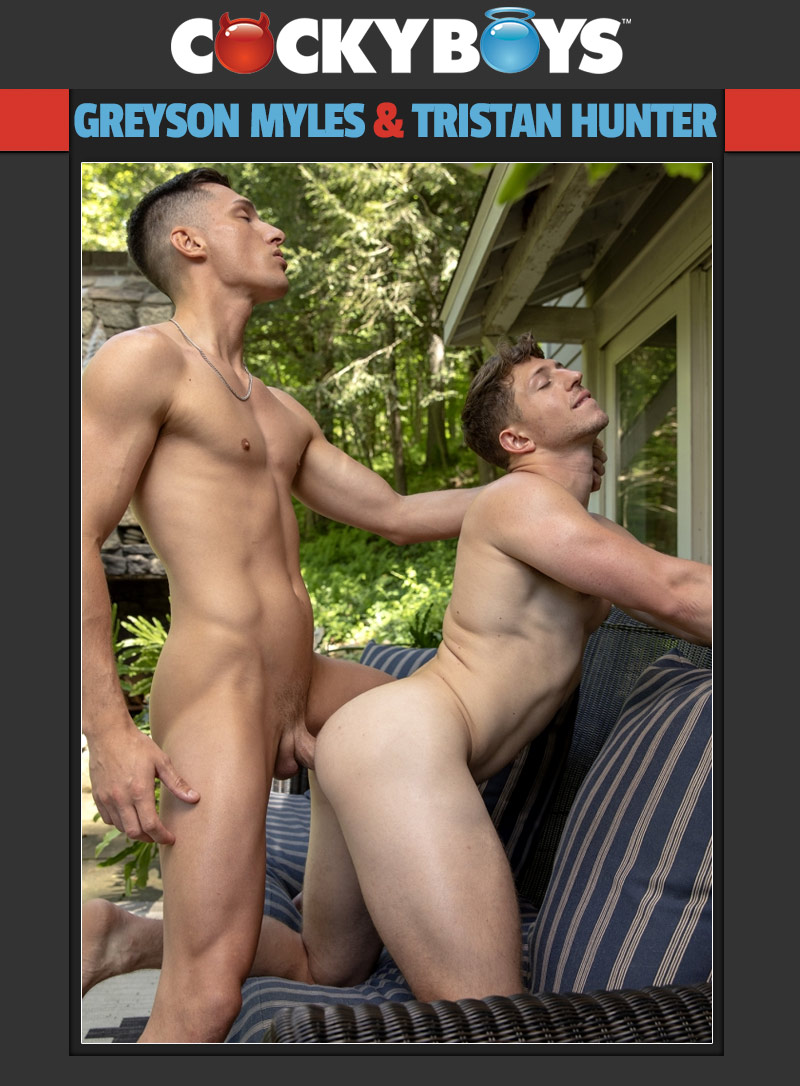 Tristan Hunter Fucks Greyson Myles [FUCKING Hard in the Outdoor Summer Heat!] at CockyBoys:
Greyson Myles and Tristan Hunter enjoy their first summer at CockyBoys in the best possible way: with hot outdoor sex! Reclining on the porch, horny Tristan sees Greyson flashing his bubble butt and "invites" him over by stroking his cock. Soon, they're making out and it's not long before Greyson is sucking Tristan and happily admiring his big dick.
Once Tristan Hunter makes the suggestion, Greyson Myles sits on his cock and rides him. Right say they're a groove mutually pleasing each other. Just as Greyson wants, Tristan stretches his hole with deep thrusts and neither can get enough as Greyson rides him almost every way possible.
At one point though, Greyson Myles dismounts and bends over so Tristan Hunter can eat out his hole. Tristan really gets his mouth and tongue into his hole. Greyson then virtually begs him to rail him again from behind. Greyson loves getting pounded and is even more excited watching their reflection in the porch's glass doors.
Tristan Hunter flips to Greyson Myles on his back and as goes full force fucking him, Greyson wants to be choked. Finally, the deep drilling makes Greyson shoot his load over himself. Within seconds Tristan pulls out and lies back to shoot his own big load.
As they hold each other, Greyson Myles makes it clear how much he really loved this, asking Tristan Hunter, "Can you fuck me like this all summer?"
Watch as Tristan Hunter Fucks Greyson Myles at CockyBoys
Watch as Tristan Hunter Fucks Greyson Myles at CockyBoys