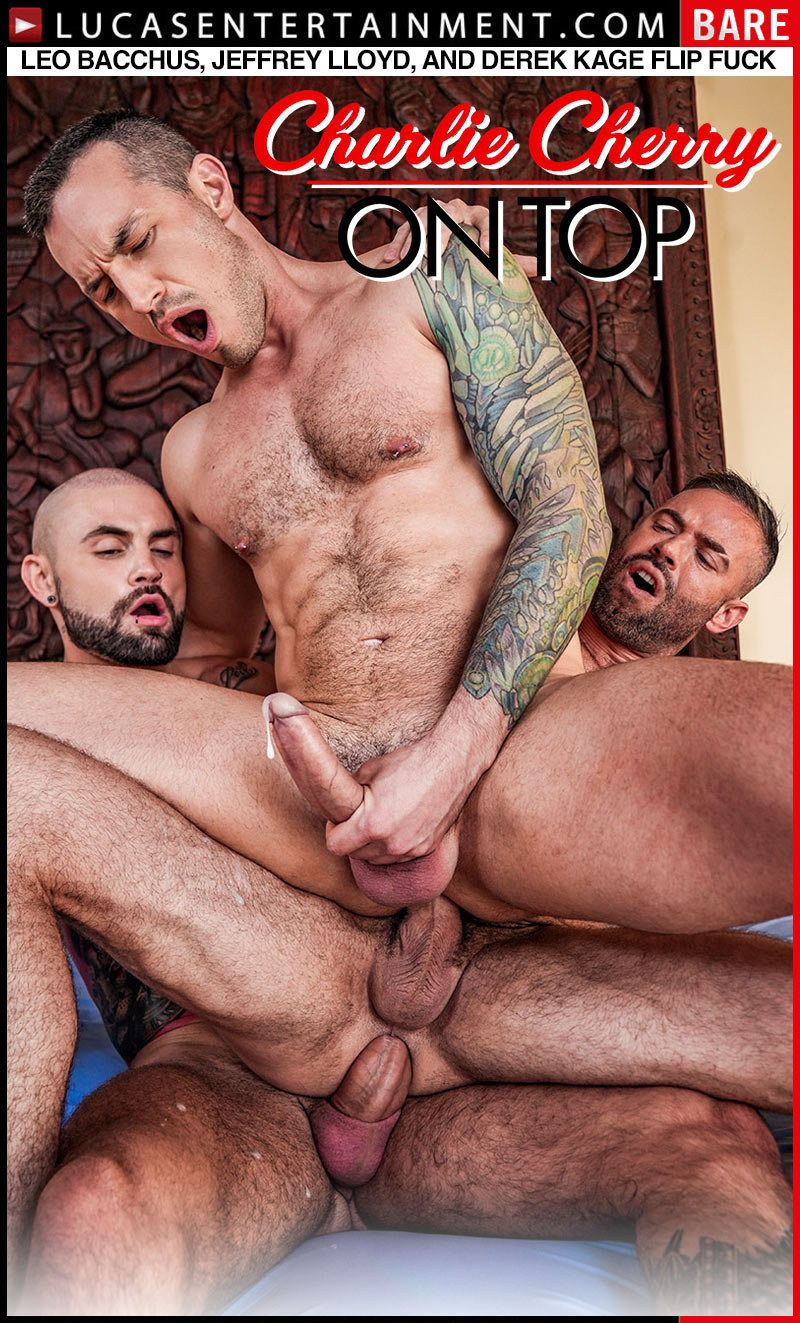 Leo Bacchus, Jeffrey Lloyd, And Derek Kage Flip Fuck at Lucas Entertainment:
Charlie Cherry finds himself in need of a momentary breather from the intense action. Stepping in to fill the void, the charismatic Leo Bacchus takes center stage, fully prepared to embark on an unforgettable adventure alongside not just one but two remarkable partners.
Leo Bacchus is met with a tantalizing sight as he encounters the first uncut member—a truly impressive and generously endowed appendage belonging to the captivating Jeffrey Lloyd. As anticipation builds, Leo's excitement grows further with the arrival of Derek Kage, whose throbbing uncut erection exudes an undeniable magnetism.
Intense Passion Meets Limitless Stamina:
Fueled by their own insatiable desire, Jeffrey Lloyd and Derek Kage eagerly prepare to unleash their passion upon Leo Bacchus. With unrelenting intensity, they pound and slam him, driven by a shared craving for pleasure. However, they quickly discover that Leo possesses an astonishing reservoir of stamina. This pushes the boundaries of pleasure to new and exhilarating heights.
We soon find that Leo Bacchus's endurance proves boundless as he fearlessly seizes control of the encounter. In a stunning display of his insatiable prowess, he effortlessly flips Derek Kage. He then takes on the dominant position and immersing himself in a raw, bareback experience that leaves no doubt about his unyielding drive and insatiable appetite for satisfaction.
Conclusion:
Prepare to be captivated as this extraordinary trio embarks on a journey into a world of unparalleled pleasure and desire. As they push beyond conventional limits, boundaries are shattered; ecstasy knows no bounds, making this an electrifying and unforgettable experience.
Watch Leo Bacchus, Jeffrey Lloyd, And Derek Kage Flip Fuck at Lucas Entertainment
Watch Leo Bacchus, Jeffrey Lloyd, And Derek Kage Flip Fuck at Lucas Entertainment