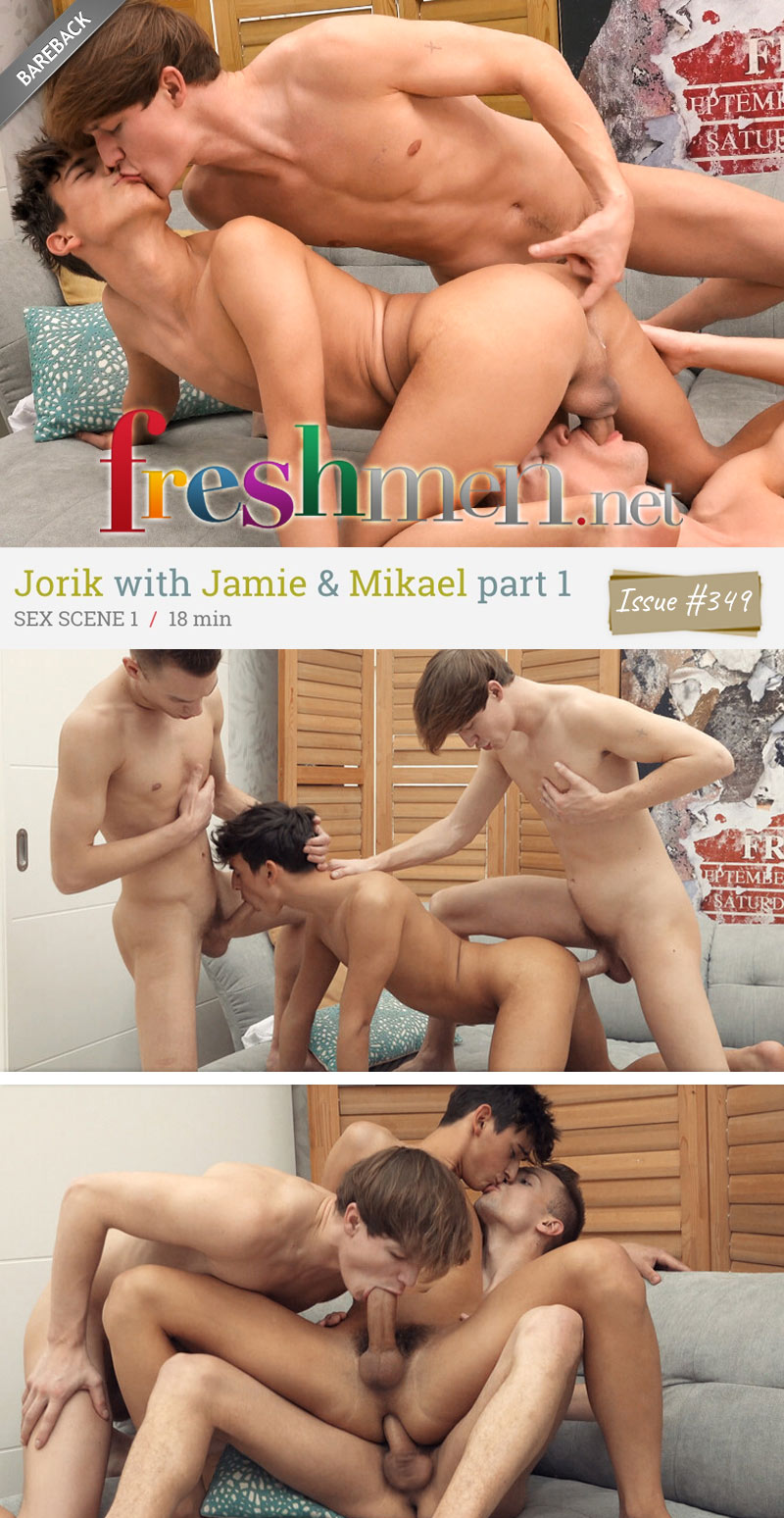 Jorik Tautou, Jamie Eliot and Mikael Nyoman Scene 1 at Freshmen:
Freshmen has a very passionate threesome for you today. Jorik Tautou meets up with Mikeal Nyoman and Jamie Eliot and the action starts as soon as they have woken up Jerome the cameraman. Jorik and Mikael share Jamie's juicy dick in some oral foreplay before he returns the favour.
The question of who is going to bottom first is quickly answered when Jamie starts to rim Jorik's butt; meanwhile Mikael blows Jorik's cock. Once our sexy twink's butt is ready for penetration, Jamie inserts his dick and Mikeal jumps in front and fills our bottom boy's mouth at the same time. The action is very energetic and it is clear that all three are having a fantastic time.
As a bonus, we finally get to see Mikael Nyoman dominating a guy's ass. Prior to this, he has only ever bottomed. This first part ends with three creamy cumshots covering Jorik's face and body.
…
Jorik Tautou, Jamie Eliot and Mikael Nyoman Scene 2 at Freshmen:
After a hot first part, Jorik Tautou, Mikeal Nyoman and Jamie Eliot meet up again to continue the fun. Mikeal Nyoman loves to bottom and yesterday's action makes him even more excited to be fucked by the other two today. Jorik and Jamie are happy to do one more round and, after losing the few pieces of clothes they are still wearing, the three hard juicy dicks are back in action.
They begin with some deepthroat blow jobs and rimming of Mikeal's ass. Jamie again takes the lead and is the first to penetrate Mikael's ass. After Mikeal has also ridden Jorik's cock, Jamie has another go before beginning a cumshot marathon. Mikael seems very satisfied and his face, ass and body are all covered in cum.
Watch as Jorik Tautou, Jamie Eliot and Mikael Nyoman at Freshmen