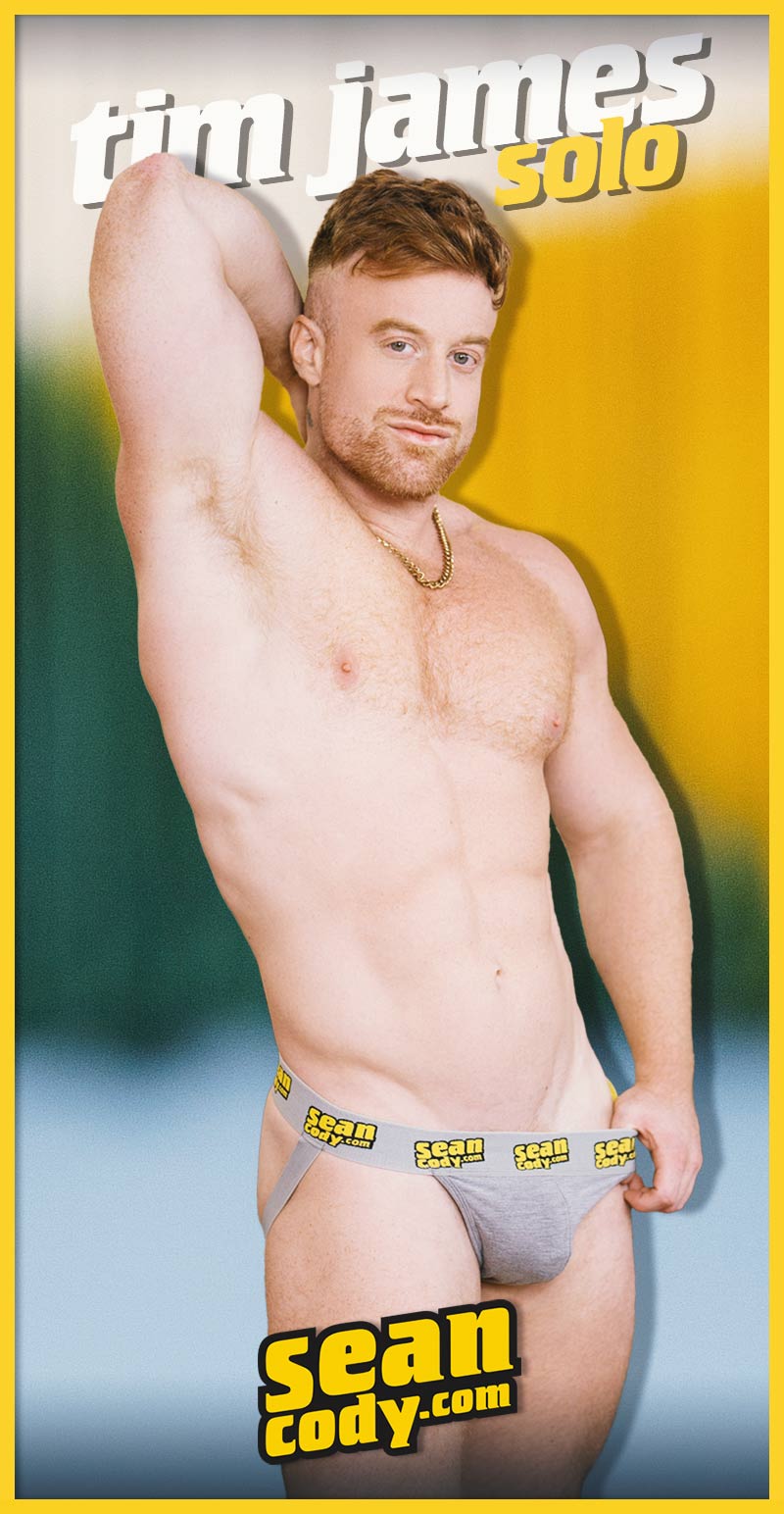 Tim James [Tall & Muscular Ginger Debut Solo] at Sean Cody:
The tall and muscular ginger SeanCody newbie and personal trainer, Tim James [JustForFans: timjamesfit], steps into the studio. He is ready to captivate the audience with his undeniable allure. Waste no time, as Tim sheds his tank top, revealing his impeccably built chest. With tantalizing grace, he eases down his shorts, showcasing an eager boner peeking over the top of his jock strap.
From every angle, Tim James ensures you get an up-close view of his finely sculpted physique as he sensually strokes his throbbing member. With each stroke, the intensity builds, and the anticipation reaches its climax. As the moment of release arrives, Tim unleashes his ecstasy on the table.
But that's not all—Tim James surprises us by tasting his own load, declaring it "Absolutely delicious!" His bold exploration and uninhibited passion add a touch of spice to this sizzling encounter, making it an unforgettable experience for all who witness his uninhibited display of pleasure.
Follow Tim James on Twitter, Instagram, JustForFans, & OnlyFans.
There will be more scenes featuring Tim James at SeanCody.com in the near future.
…
Coming Soon!: Tim James Fucks Evan at SeanCody:
Experience the fiery encounter between tall, shaven-headed Evan and redhead hunk Tim James at Sean Cody.
Watch Evan suck Tim's cock, then ride him on camera for the first time. Tim's muscles leave Evan impressed, exclaiming, "Oh fuck, you're so sexy!" as he rides him. Tim's intense doggy-style action elicits gasps of pleasure. Evan climaxes while Tim pounds him missionary-style, inviting the newbie to finish on his ass. Don't miss this unforgettable studio session!
See also: Colby Melvin and Tim James at RawFuckClub:
Well, Tim James' first collab. Colby Melvin is honored to be the first on his journey from solo selfies to sittin on dicks for all you lovely people ! Visit RawFuckClub
…
Watch Tim James at SeanCody and RawFuckClub.