Hot Sheet
The Newest and Latest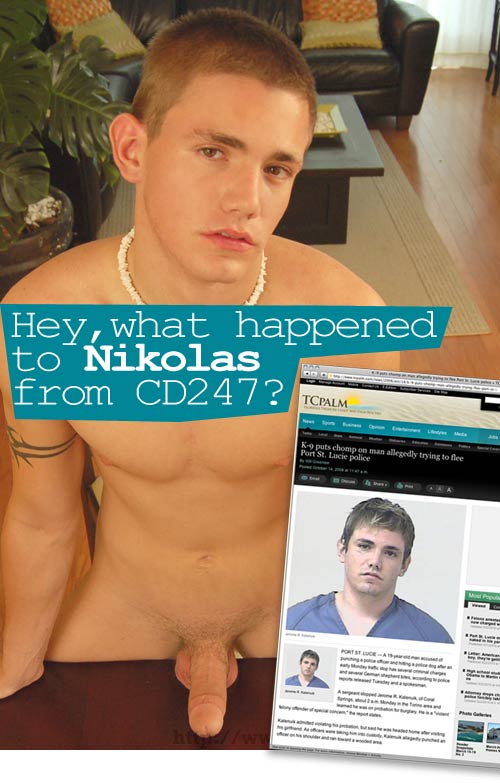 A lot of fans have been asking what happened to Nikolas from CD247. Unfortunately, it seems that he is unavailable for more porn because he ran into problems with a police k-9 and apparently won't be out of prison until 2013. Keep your fingers crossed that he has been getting practice on the inside.
-The Quidnunc Queen
K-9 puts chomp on man allegedly trying to flee Port St. Lucie police » TCPalm.com
Award season always begins with a bang–particularly in the case of the GayVNs, who kick off the statue-and-gift-bag competition with their own list of nominees for best newcomer, best butt-bang, and other categories that don't get the recognition from Hollywood that they deserve (not counting West Hollywood). Read up on the nominees, including Arabesque and Skuff 3, and while you're at it, make your plans to stalk Gus Mattox and Shane Rollins along with us outside L.A.'s RAGE nightclub, home of the ceremonies–which are strictly invitation only, dammit. Maybe we'll ask you to come with us? At this rate we won't be able to hold off until March 9 anyway.
If you follow the Associated Press newswire, you might have tsk-tsked at the latest porn-in-uniform scandal. After Tailhook and Dirk Yates, it's not exactly unplowed ground, is it? But when you throw in one of the Army's elite combat units and semi-rural North Carolina, you get a rise out of us.
The AP says Army officials are looking into charges that seven of its paratroopers from the 82nd Airborne took part in gay porn that's posted online to a Web site registered out of Fayetteville, North Carolina. (Better-versed porn hounds than us suggest it's a certain military-themed Web site, but we can't confirm.) While the site doesn't mention Fort Bragg in particular, military officials told the AP that the base is the site of the investigation. About 15,000 soldiers make up the 82nd, and active duty has them in Iraq and Afghanistan and we can only assume and hope to see, each other.
The Super Bowl's coming to town on Sunday, but the really big story in Detroit is the annual car show, where new sheetmetal like a concept Camaro and Dodge Challenger made their debuts to oohs and aahs from the press and horny car guys everywhere. Five of those guys who happened to be employed as electricians at the show took their subtly homoerotic love for cars one step further, and face disciplinary action as a result (yeah!).
The Detroit media reports that the five brought a woman into the show at Cobo Hall at 2:30 in the morning, after boozing her up in a nearby bar, and convinced her to pose with the Challenger concept car, a handmade job worth about $1 million. First reports suggested that the woman, "Danielle," got butt-ass naked and rolled around on the car like Tawny Kitaen would have. But Danielle's appearance on local TV refuted most of the charges, though she did admit her shirt may have been see-through at close range.
Woman Dispels Rumors Of Naked Auto Show Photos [ClickOnDetroit.com]
Ready, set, run: if you haven't put ColtmanDiego on your friends list at our HookUp Now! Page, you need to. Because this single guy just can't be long for the lonely world–not with Colt modeling credentials to go with his adorable Puerto Rican features. "I was born in the luscious island of Puerto Rico, surrounded by the beautifully refreshing blue waters of the Caribbean Sea," he says. "I'm proud to be Puerto Rican, but also delight in being a man of integrity, who highly values intelligence and enjoys the company of those whose intelligence resonates with my own." Sold!
This thirty-five-year-old hung Scorpio adds that "I take care of my body as well as my soul. I am a man's man, not a girl dressed in muscles, who likes a man whose hand shake is strong, firm and hot. I truly delight in laughter, romance, deep conversations, but mostly in sensual passionate moments. My life is one with a rich history, a great spiritual adventure. From a family of eight I've experienced great adversities yet great joys too. Finally, I love to have a good time, but I also want to make a difference in this sad, beautiful, tender and sexy world."
Take him clubbing or to the movies – or dress him up in chaps and jeans or a tight Speedo, which he also likes. Just remember: hands off if you see us with him, whore.
ColtmanDiego [Hookup.WayBig.com]
Well, not really…but you can keep dates with other non-priests on a priest calendar. So the image quality isn't all that great…but it's for a good cause. Right?
Good causes aside, these are twelve months of sexy-as-hell priests we wouldn't mind getting on our knees for, and I'm sure there'd be a Hail Mary(or is that "hell mary!?") or two uttered.
Oh, one more thing! We're not sure if the priests are matched up with their correct or actual month. Using the power of deduction, we followed the sequence of images in the slide show from the calendar cover image to the 13th and final one which we labeled 'December.'
Many thanks to WOW Report(an excellent website, btw) for bringing this, the priest's 3rd year of calendars, to our attention yesterday.
Visit: Calendario Romano 2006
You remember her original pay-for-play act from the days when being a madam also meant having Wayland Flowers' elbow up your ass–or maybe more recently, for sending actor Tom Sizemore into much-needed rehab and prison for fisting her in another way. But this time Heidi Fleiss is a sister doin' it for herself. Fleiss says she's had it with being a Hollywood madam and is instead moving to Nevada to open an all-boy banghouse in the desert. The convicted felon can't get a legal brothel permit in the state, though, since being a con disqualifies you from operating a bordello by law. But apparently, she's teamed up with Joe Richards, who operates two brothels in the state already to be her backer and permit-holder. We like her idea – up to a point. Heidi's "stud farm" is to be populated with manly meat, but Fleiss pointedly told the press that her herd of men would be for women only. Fleiss was convicted in 1995 of money laundering and tax evasion related to a prostitution ring she ran in Hollywood in the late '80s and early '90s.
AP Wire Stories: Fleiss plans makeover for Nevada brothel
Hey–we're not the only ones questioning whether country star and from-the-neck-down hottie Kenny Chesney is one of Mary's girlfriends. They said it, they said it, and well, now even People Magazine is belatedly asking, just a couple of months after Chesney's very public, upcoming annulment from Renee Zellweger surfaced.
So, does People magazine have any real first-hand scoop on the kind of pieces Kenny normally likes to pick up? It's barely but definitely acknowledged in a big interview this week with Chesney, totally coincidentally timed with launch of his new album.
With the press pouncing on the use of the word "fraud," a legal term, as the grounds for the annulment, "they've done nothing short of calling me gay and her a whore. None of those things are true. I'm pretty firm in my sexuality and my love for women."
Closet case closed? Maybe not. Chesney's sign-off to the interview? "My mom told me that she loves me no matter what, and she just wants me to be okay," he says.
Sounds like a coming-out party to us! You can read the full story if you're a People or an AOL subscriber—or if you have 15 items or more in the checkout lane.