Lucas Kazan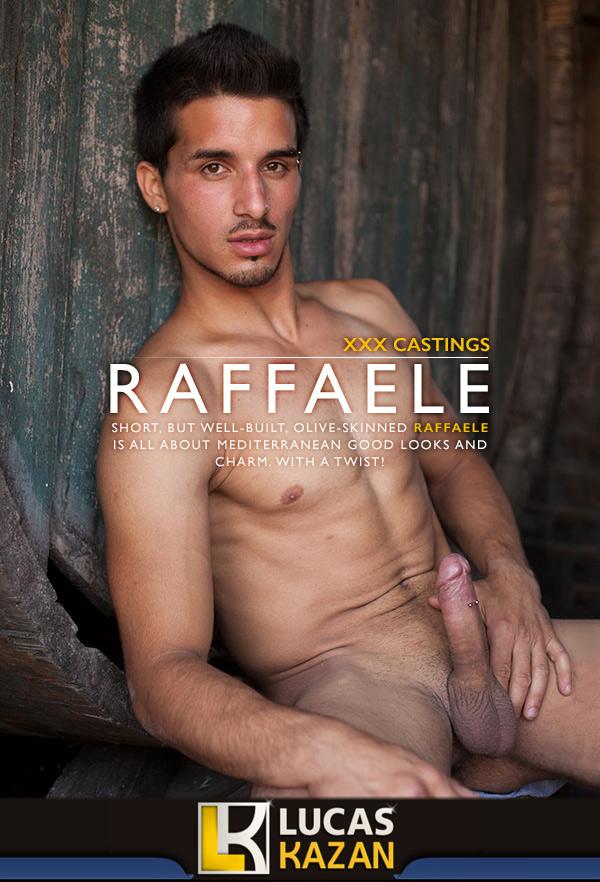 LucasKazan.com debuts 24 year old Raffaele. Born in Spain, Raffaele has lived in Sicily for ten years. "His Italian has a bit of an accent still", says Director Ettore Tosi. "Which makes this smoldering 24 year old jock even sexier and all the more desirable". Short, but well-built, olive-skinned Raffaele is all about Mediterranean good looks and charm. With a twist!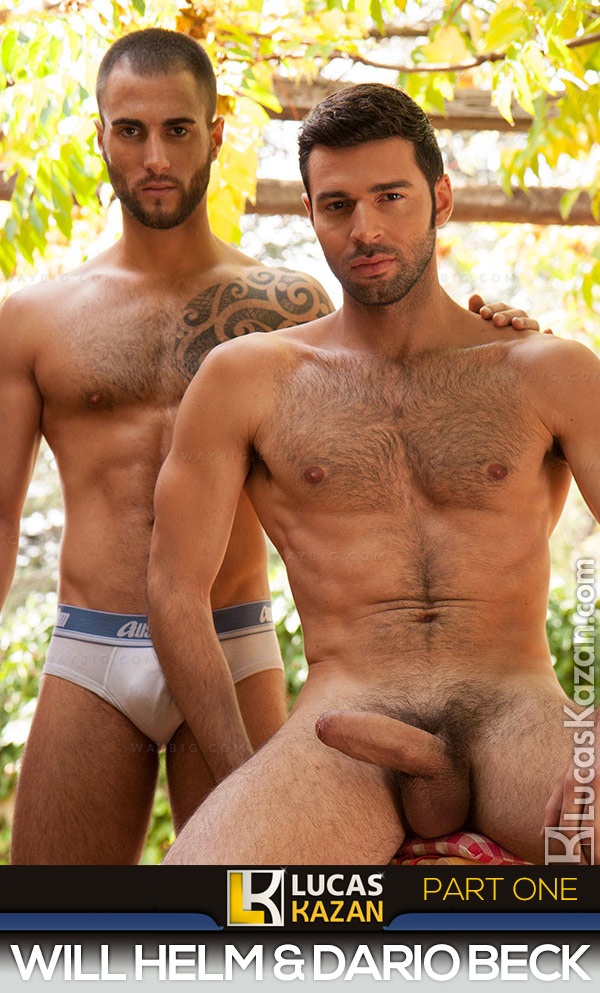 French charme and Latin heat: we knew we couldn't go wrong with Will Helm (from Paris) and Barcelona resident Dario Beck. We didn't know we'd end up with THREE Scorpios: the two stubbled, hairy-chested Euro stars and director Ettore Tosi behind the camera. No wonder the Sicilian set was on fire!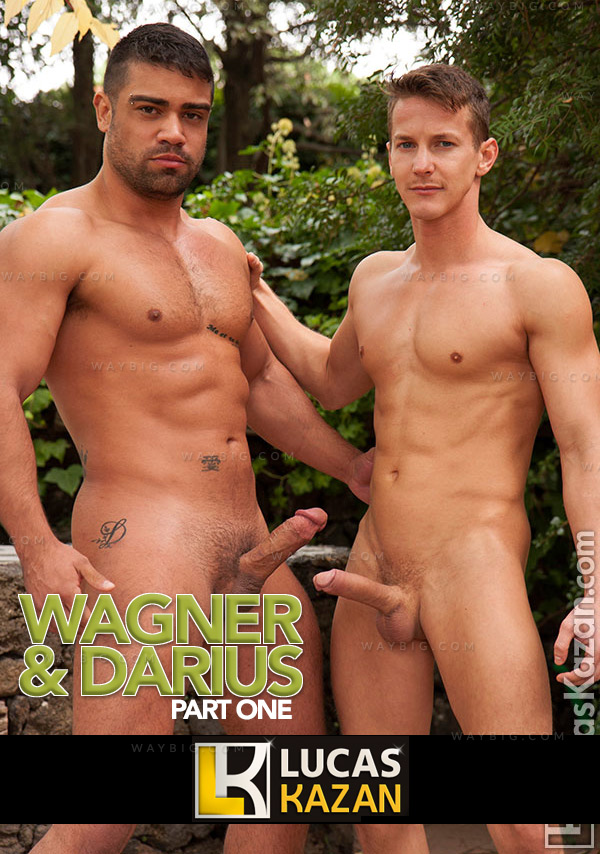 25 year old Darius Ferdynand was flown to Catania/Sicily from London; 30 year old Wagner Vittoria from Rome.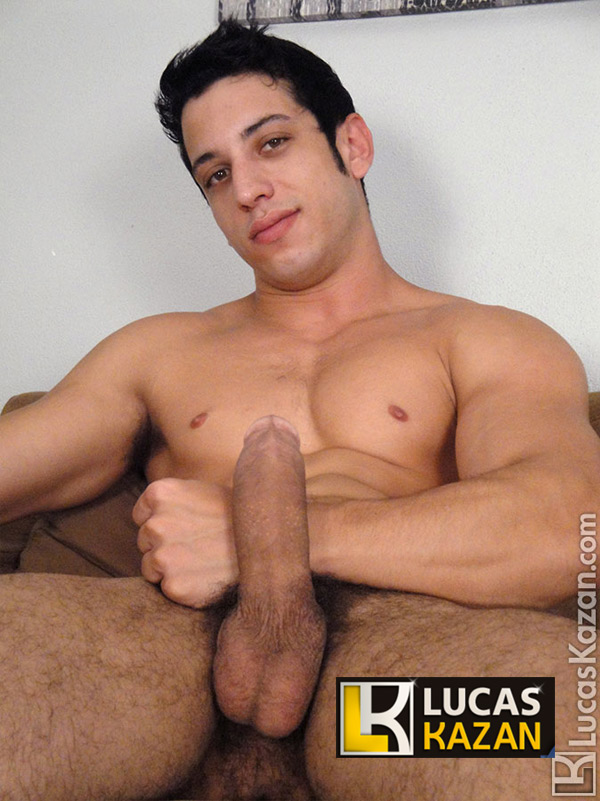 If you have a thing for ripped jocks –and who doesn't?–, for six pack abs and beer-can dicks, Smith is your man. Handsome and built like a brick, this 24 year old Carioca may be a little camera-shy.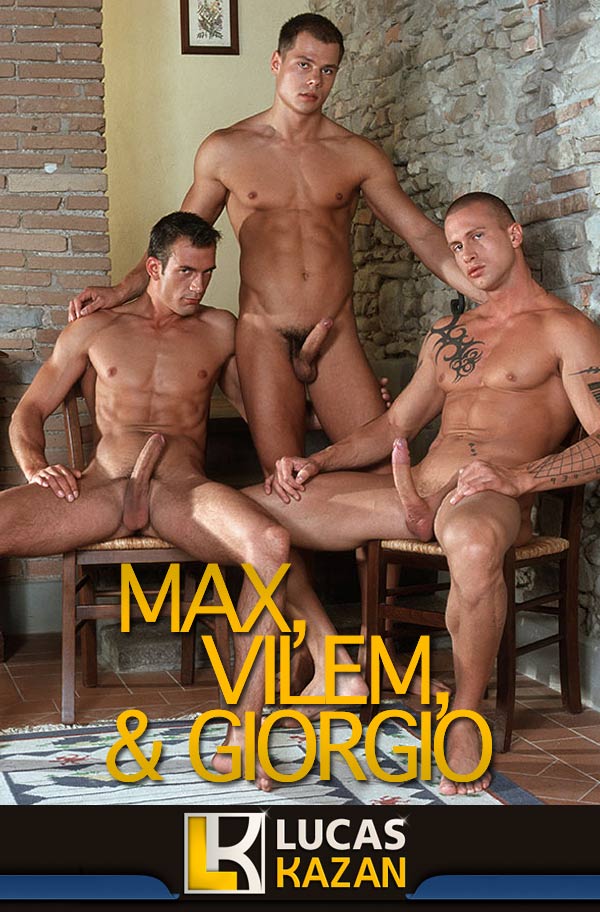 Italian stallion Max and Czech superstar Vilem are a match made in heaven: both masculine, gym-built, tall (at 6'2″), hung (9 inches). Add boyish –but not so innocent– Giorgio and you've got the perfect threesome…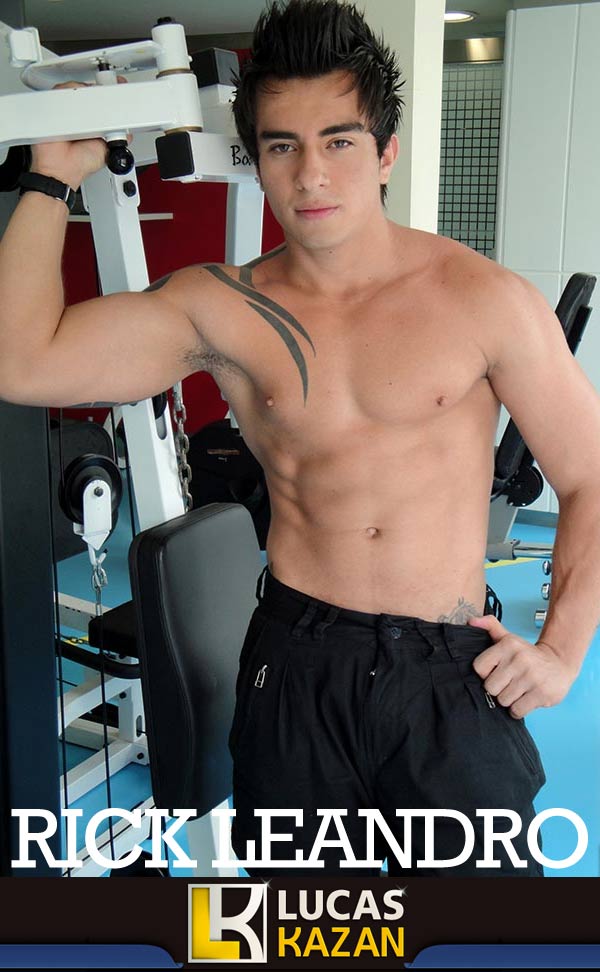 I couldn't get Rick to sit down for a quick interview, he's one of those sexy guys always joking around… till the camera rolls. But let me tell you, Rick Leandro was rock-hard the minute he walked in, no embarrassment down there. Thick black hair (spiked up), bedroom eyes, a compact, muscular body and a huge tattoo on his right shoulder, 21 year old Rick is a charmer. Now, if you don't care about personality or bodybuilding, I bet that HUGE cock will keep you happy.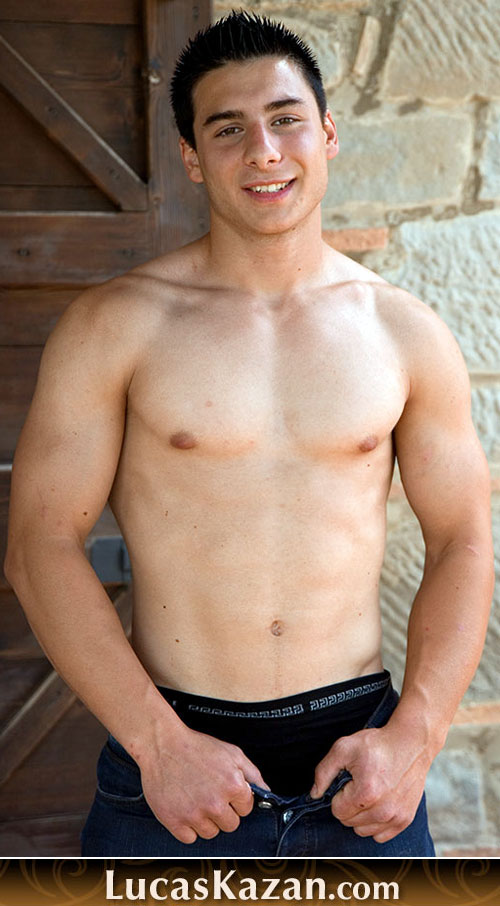 A Sicilian immigrant working in Belgium, 21 year old Tano is a knockout. His boyish charm and a compact, muscular frame are sure to make this jock an instant fav of yours. Listen to his broken Sicilian, the words aren't quite right (and often mixed up with Spanish). But they sound… oh, so sexy.
If you doubt the boys from Palermo are the sexiest and the most handsome from Italy, pay a quick visit to the beaches of Mondello (just outside Palermo) and revel in the male beauty so abundant there. Can't book a trip to Sicily? Fall in lust with Francesco LoBue, 21, black hair, black eyes and a body to slurp on. Yum!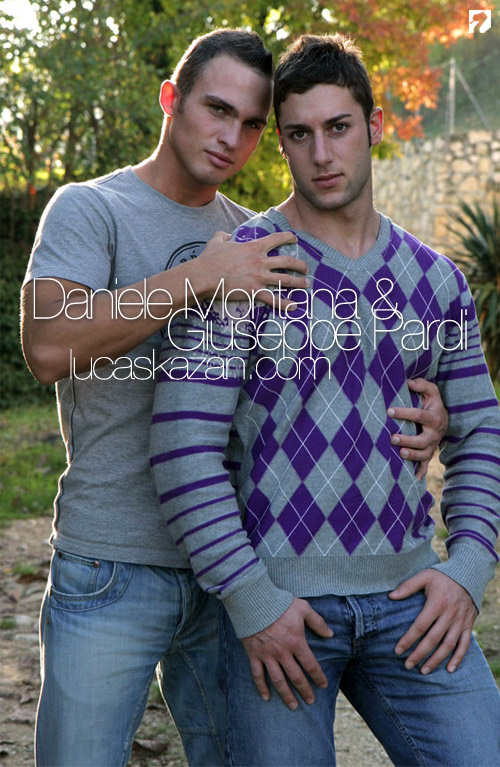 Giuseppe was flown in for an episode with Alex Orioli. But the chemistry between Giuseppe and Daniele was so tangible, I couldn't help pairing them up. Their impromptu scene practically directed itself: endless kisses, tireless erections. If only it were this easy at all times…
Watch Daniele & Giuseppe's Teaser Clip | Visit LucasKazan.com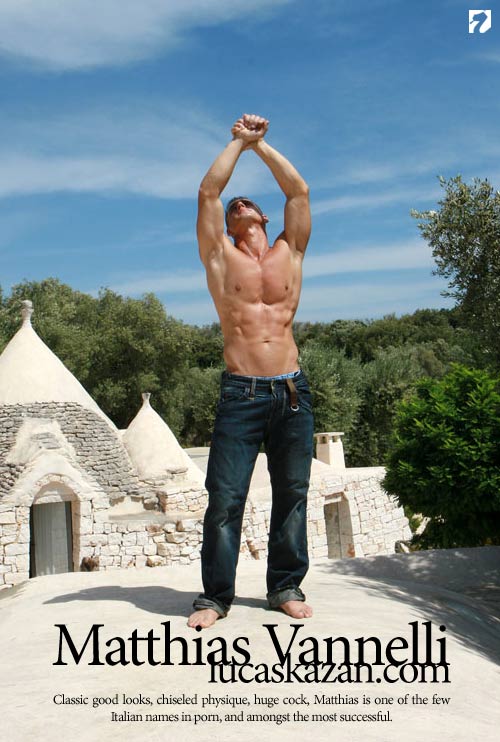 Classic good looks, chiseled physique, huge cock, Matthias is one of the few Italian names in porn, and amongst the most successful.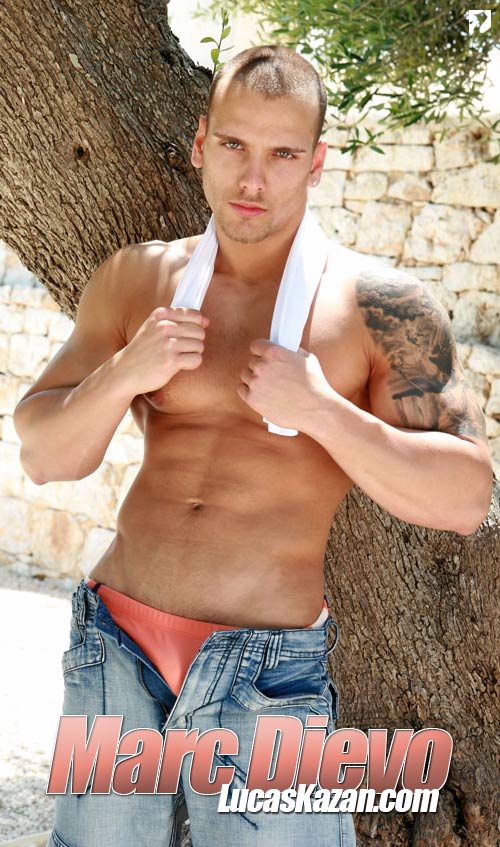 Marc is 21. Always cheerful and outgoing, he's seriously into bodybuilding. Check out the elaborate, magnificent tattoo on his left shoulder. But if you don't care about tattoos, his eyes and his buns will make you swoon.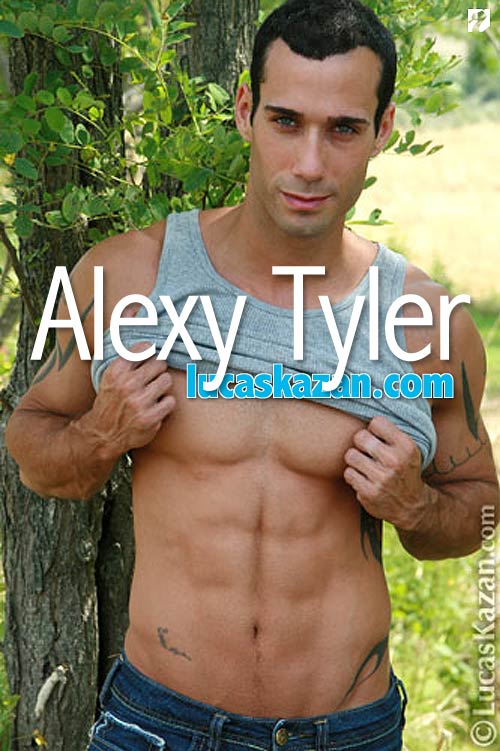 A Canadian citizen with Tunisian roots, Alexy speaks English, French, Italian and Spanish with great ease. Not to mention his exotic looks, bedroom eyes and ripped abs. Alexy's back sports 4 major tattoos: Madonna (his goddess), the globe (an homage to his many travels) and two aphorisms: 'Absolutely no regrets' and 'Only god can judge me.'