Porn Stars/Videos
Porn Stars/Videos
Maybe when you hit a hundred, you'll attract all the hot meat that Chris Ward brings to his coming 100th fuck flick, Manifesto. Then again, maybe you'll be a pile of dust and bones. Regardless, after seeing this hot collection, it might be one very big bone among the pile: Ward's Raging Stallion says the upcoming cumfest will feature François Sagat, the unearthly delights of Remy Delaine, Huessein, all-time ass model Michael Vincenzo, and Sarib in a two-discer with nine harcore scenes to digest.
"Pure porn"–that's PR talk for "no plot"–and lots of chapter splits may make this Arabesque follow-up effort the most hand-cramping invention of 2006.
Just tell your boyfriend you've been playing a lot of Doom.
Manifesto: A Chris Ward Feature Film [Raging Stallion Studios]
There's more dick on the Internet than in the White House and the soft-focus, quasi-porno rag can't even keep its Men of the Year under contract. This year's apparent MOTY, Kevin Talley, had already posed once and shown his Talley whacker to the 80-percent-female audience of the magazine. But after a personal consultation with Jesus ("Jesus, should I show my cock in public again?", or something to that effect) and thinking about his 9-year-old daughter, Talley decided he'd turn down the magazine's offer to be Man of the Year. In declining the dubious honor–wouldn't Raging Boner of the Year look better on the sash?– Talley, a 33-year-old Louisville native, says living without the cash was "the easiest decision I've ever made." Subscribers, feel free to scan and send us shots from Talley's first photo layout, from April 2005. Because, after all, he is kind of hot.
A Playgirl no-show [Courier-Journal]
Update: Blackdogue's Celeb Photos — Kevin Michaels (Playgirl – April 2005) [Via Fleshbot]
Collingwood Manor has never seen such excellent service–and neither have the hot hunks that show up as guests on the love boat that is At Your Service, the latest spunkfest offered up for pre-ordering at Hot House. HH's exclusive Kent North runs the manor and goes above and beyond Ritz-Carlton in making sure his guests are taken care of. The usual cast of cameo cocks are lined up, including the bubble-assed Alex Collack and Jason Ridge, with a stunt dick shot from Arpad Miklos and forever young Thom Barron. Download a free iPod video preview to tide you over until your room gets serviced–and you might as well forget the wake-up call. Your dick will know when it's time to get up.
At Your Service [HotHouse.com]
In the great hall of porno gods, a few men stand tall and long above the crowd — Al Parker, Steve Kelso, Carl Hardwick and the like. But color us depressed that former Titan and Raging Stallion guy Dean Coulter has ridden his last flesh pony into the sunset along with the others. Coulter's first action scenes in the likes of Swell and the instant guy-on-guy classic, Eruption, were followed by only a handful more flicks before the bubble-butted, thickly treasured-trailed and toward the end, heavily tattooed Coulter waved sayonara to fuck-flick action.
Happily, most of his efforts are endlessly repeatable on disc – and though they say DVDs are nearly indestructible, we've got a rut or two where Coulter gets ravished beachside by Eduardo in Eruption.
Scan for the classics over at Waybig's online store, and pray for a comeback of Madden-like proportions, will you?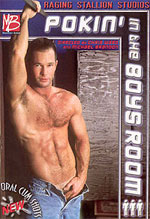 We're a sucker for a snappy video title, among other things. And what best blends the two hit versions of the same song (uh, it's "Smokin' in the Boys' Room," in case you're very slow), the specter of Tommy Lee's huge penis (Motley Crue covered the ditty for a top-ten hit) and insertive gay sex? How about Michael Brandon burping cum out of "Monster" on a cast of equally buff stuff?
This video has it all, along with well over two hours of fuck action on one DVD with Tag Adams, Jason Dean and the astrologically-inclined Taurus playing backup to Brandon's Herculean cock. $49.99 from Raging Stallion.
Order Pokin' in the Boys Room