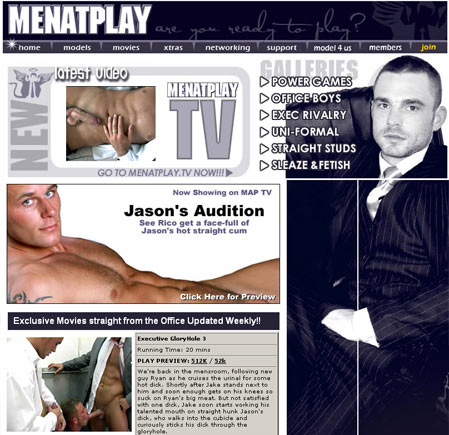 For those of you out there who have ever fantasized about your boss or male co-workers, Men At Play is a hundred of those fantasies crystalized into one macho, ladder-climbing venture of office debauchery. This site is all about extremely sexy hunks, in their offices, suited up in business attire and of course, various stages of undress, then fucking…
Men At Play is divided into office play categories such as: Office Boys, Exec Rivalry, and Power Games; with a great many picture galleries in each category, each with their own story. There is also an Erotic story section for those of you who enjoy a good jerk & read.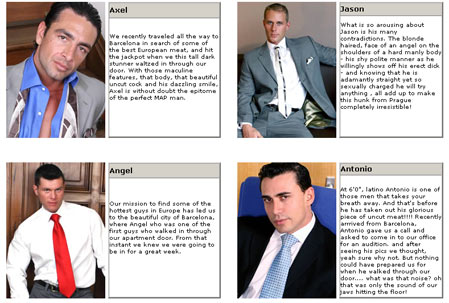 Click for larger MaP Models Image
A good many of the picture galleries include videos of the story. The videos are encoded using Flash technology, so there's no need to have any specific media player installed; the videos can run as long as 19 minutes.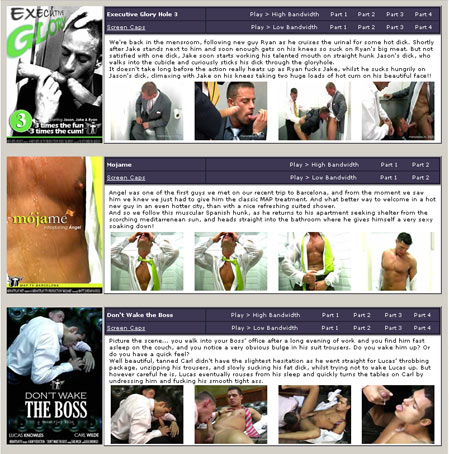 Click to see larger Video section Image
To sum up, Men At Play is an easy to navigate, well-organized site with hours of hardcore orifice, I mean, OFFICE action to keep you and your cock occupied with more than just busy work.
Visit Men At Play