You think your job is so great? All you get to do is steal free office supplies and once in a while, catch the semi-hot guy in the next cubicle jerking himself off in the men's stalls. Well, okay – that is kinda hot.
Jake Cruise might have one on you. Straight and not so narrow guys come to his house all day long to get massages, get naked, get head, and more often than you'd think, get a little butt-ravaged. Color us jealous! We don't know what lottery Jake won to be handing out the bills to get these boys in the fuck mood, but we say keep spreadin' em. There's quality straight and gay meat here, and by proxy with Jake, you get to see their cum faces without having to pay for dinner or do the whole "torture of a thousand emails" thing before you hook up.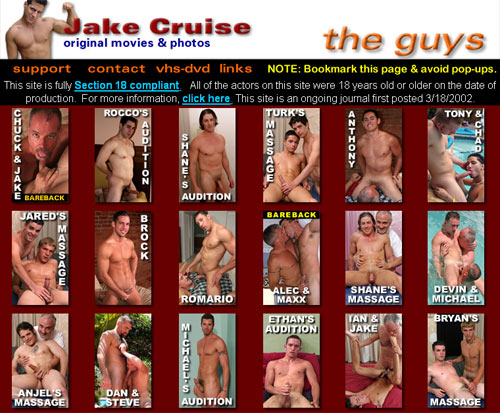 The site is laid out as simple as can be. Once you log in, click on a playing-card-like thumbnail of your boy of choice and it takes you to the preview screen where you can choose photos or movies. Some guys stop at a body massage, and those videos don't have photos with them. The vast majority end with Jake sucking or fucking something, or at least watching, so make sure to turn down the volume on your screen when your supervisor decides it's time for "team building" by tossing you a stupid football or asking you out to lunch or something really gay like that.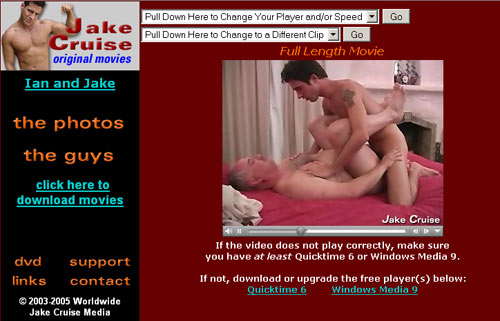 New scenes are available every week, and DVD copies can be bought in case you fear burning the pixels into the computer screen. Whether it's Jake fucking the delicious Mark, or simply rubbing down the adorable and hung Jacob, you'll wish you could find that kind of work. Maybe it's time to polish up on your resume?
Jake Cruise Price Points At the time of review

Boyfriend: 30 days for only $24.95 – Renews at $24.95 every 30 days until cancelled.
Fuck Buddy: 30 days for only $34.95 – Non-renewing one-time charge.
Lover: 90 days for only $64.95 – Non-renewing one-time charge.
Visit JakeCruise.com