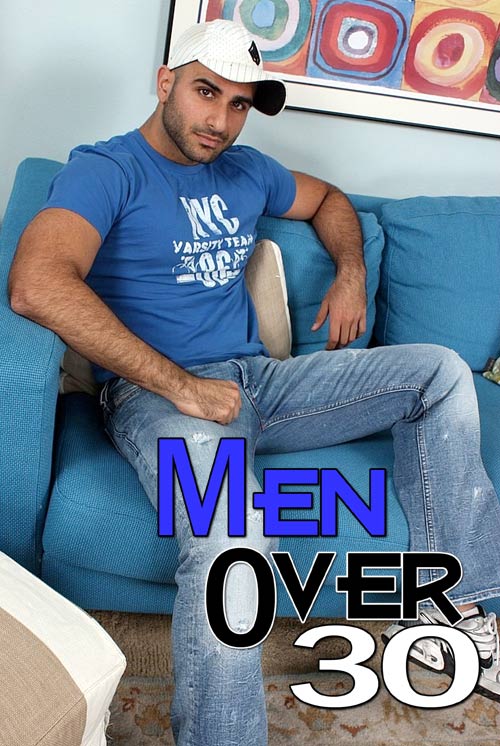 Watch Alex Slater at MenOver30.com
MenOver30 wrote:
This week, MenOver30.com brings visions of Moorish turrets, sand dunes and swarthy manliness come to mind; when you first lay eyes on the exotic delicacy that is Alex Slater. This sexy stud is 30 years old and originally from Queens, New York. His background is French Lebanese which is what gives him that sexy, Mediterranean charm.

He first had sex at 16 with his best friend. She bet him his cock was bigger than her boyfriends. She ended up getting his cock and poor Alex walked away thinking "he" won the bet—sucker! It's all good with Alex who has a major sex drive. He needs to get that cock off constantly. Well we're always happy to facilitate that. Alex starts off on the couch in jeans and a tee. He licks those luscious lips as his hands start to roam over his muscled frame. He lifts his arm up and shows off his hairy pits. His cock is growing by the second and it isn't long before he's poppin' a tent in them there briefs. He jacks that dick quickly as he lifts his other arm behind his head. Once there he indulges himself as his tongue starts to taste as much of his furry pit as he can. HOT! His balls are a naturally smooth oasis surrounded by nothing but sexy body hair.

Alex then decides to give us a view of the rest of his sexy self. That hairy hole is winking at you as he strokes that cock underhanded taking his time so that you get a good view at that muscular ass you'd rather be inside of. He then starts to tease that hole which makes his cock that much harder. He rubs and teases that sweet ass as he continues tugging on his pole. Alex then lies back on the couch and goes to work on that sexy cock and gives it the attention it deserves. "Aww I'm getting close" he mutters under his breath a few seconds before he starts to cum. His cock throbs as it unloads sending his sweet cream all over his furry abs and navel. Now we need to clean this hot boy up—any takers?